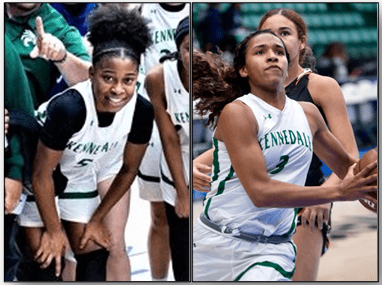 The #6 KHS Lady Kats have moved to 22-5 after winning last week over 6A Waxahachie 63-33. (Note: this article has been updated with a correction in the photo and overall record)
For the game, #5 Jayla Jackson Allen (SO) and #3 Reagan Jackson (JR) led in scoring with 18 and 16 points respectively.
Tuesday's game …
The first game for the Kats in 2022 will be against 4A Burkburnett at Burkburnett HS on Tuesday, January 4 beginning at 5:30 pm. This is a non-district game. Burkburnett is 11-10 according to MaxPreps.
Kennedale and Burkburnett have only one common opponent per MaxPreps – 6A Byron Nelson. Kennedale lost to Nelson 55-33 on November 27. Burkburnett lost to Nelson 37-20 on November 12.
Burkburnett is northwest of Wichita Falls and is approximately 142 miles from Kennedale HS via US-287 with an alternate route via US-281 and Jacksboro (151 miles). Directions
This Friday …
Kennedale will return to district play with a game on Friday, January 7 at North Hills Prep. Varsity is set to play at 6:30 pm. North Hills does not field a freshman or JV squad.
North Hills Prep is located in Irving, TX at 606 E Royal Ln, Irving TX 75039. It is part of Uplift Education Charter School network.
North Hills is approximately 33 miles from KHS via George Bust Turnpike or 35 miles vis I20/Hwy114. Directions
The Lady Kats of Kennedale are currently 3-0 in district play.
Change in rankings …
The most recent TABC rankings for Girls Class 4A Basketball has the Lady Kats moving up two spots this week to #6. The top ten include #1 Argyle (22-0), #2 Hardin-Jefferson (19-4), #3 Fredericksburg (22-3), #4 Canyon (15-15), #5 Brownsboro (22-2), #6 Kennedale (21-5), #7 Midlothian Heritage (18-5), #8 La Vega (19-4), #9 Levelland (18-2) and #10 Sunnyvale (17-6).