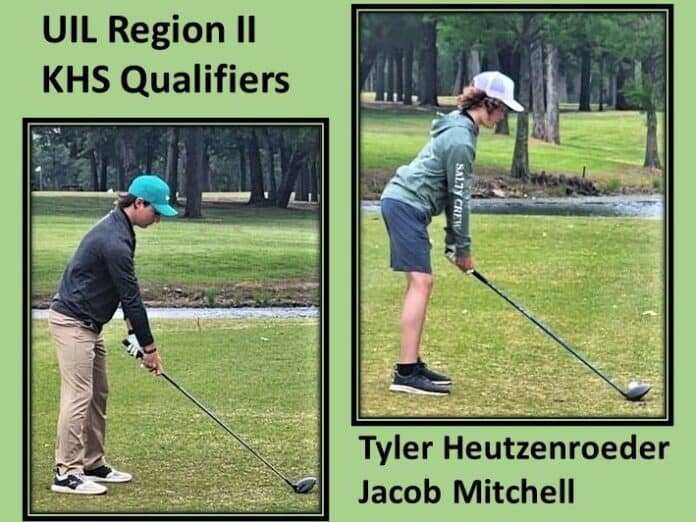 District 10/4A held their 2-day district golf tournament on March 24 and 25 at Mansfield National Golf Club. The district meet included teams from Godley, Alvarado, Kennedale, Venus, and Hillsboro for the varsity boys. For the varsity girls, teams represented Godley, Alvarado, Venus, Waxahachie Life, Hillsboro, and Kennedale.
It was small numbers for the Wildcats as just one golfer competed in the varsity girls' tournament while six competed in the boy's varsity tournament.
Results for District …
Tournament results: Top 4 teams with the top 2 teams advancing to the region
Girls:– 1st Godley – 2nd Alvarado – 3rd Venus – 4th Waxahachie Life
For KHS – Taylor Fail finished 11th out of 21 golfers. She improved by 11 shots from day 1 to day 2
Boys: 1st Godley – 2nd Alvarado Team 1 – 3rd Kennedale – 4th Alvarado Team 2
For KHS (out of a total of 27 golfers in the varsity event):
Jacob Mitchell (Jr) – Shot 76 and 79 and finished tied 2nd out of 27 golfers in the district (1st Team All-District) and a region qualifier
Tyler Heutzenroeder (Jr) – Finished 7th (2nd Team All District) and a regional qualifier
Aidan Atlas – Finished 9th (2nd Team All District)
Brendan Heutzenroeder – Finished tied for 11th
Trenton Rush-Chestnut – Finished 19th
Jacob Mitchell and Tyler Heutzenroeder qualified to participate in the 4A Region 2 Golf Tournament. Aidan and Brendan were alternates.
Region II 4A Tournament …
Van Zandt Country Club, Canton, TX – Boys Varsity, April 19-20
KHS Results:
Jacob Mitchell (Jr) 90-87 to finish 28th overall
Tyler Heutzenroeder (Jr) 103-93 (tied for his best round of the year) to finish 55th.
Winning Score was Colin Price from Godley with 73-69.
The KHS Golf Coach is Matthew Casey who took over the team mid-semester of this school year.