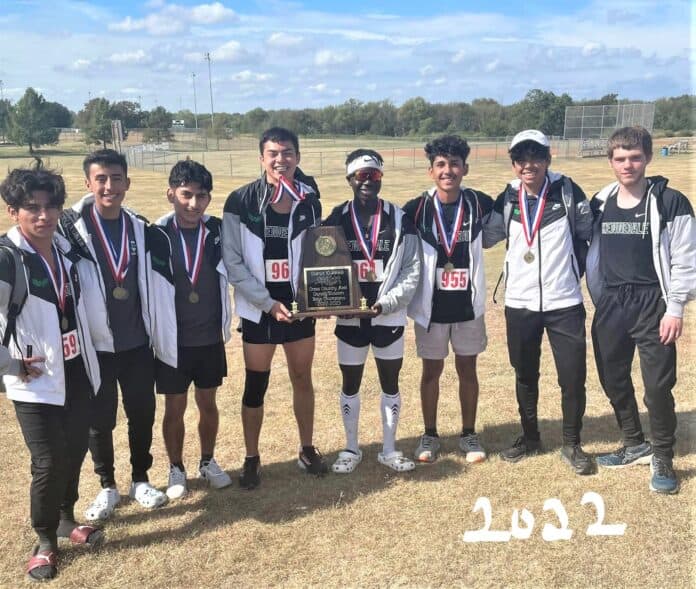 A senior-led KHS Wildcats Cross Country Team won the team championship at the UIL 2022 District 10-4A Cross Country Meet on Tuesday, October 12, 2022, in Hillsboro. Five Wildcats finished in the Top 20, including a one-two finish by Jonah Marvine and Justin Walker.
At the meet in the 5,000-meter race, Jonah came across first with a time of 16:57.80. Close behind was Justin with a time of 17:28.54. Both are seniors at KHS.
Adding to the team totals were Carlos Gonzales (SR) Kennedale HS (18:36.51) at 16th place, Adrian Gonzalez (SR) Kennedale HS (18:40.90) at 17th, and Maddox Wheeler (SR) Kennedale HS (18:48.10) in at 20th.
Isaac Arredondo (FR) from Alvarado HS finished 3rd with a time of 17:40.64. John Hawkins (JR) from Waxahachie Life came in 4th at 17:54.98. And finishing in 5th place was Obed Cruz of Hillsboro with a time of 17:56.98.
Also competing for KHS were Glen Gonzalez (SO) 20:06.10, Nicolas Castro (JR) 21:11.70.
Finish by team totals …
Kennedale won the district title with 56 points. Waxahachie Life came in 2nd with 58 points followed by #3 Alvarado with 61 points, #4 Hillsboro with 75 points, #5 Godley with 124 points, #6 Ferris with 141 points, and #7 Venus with 186 points.
Lady Kats compete …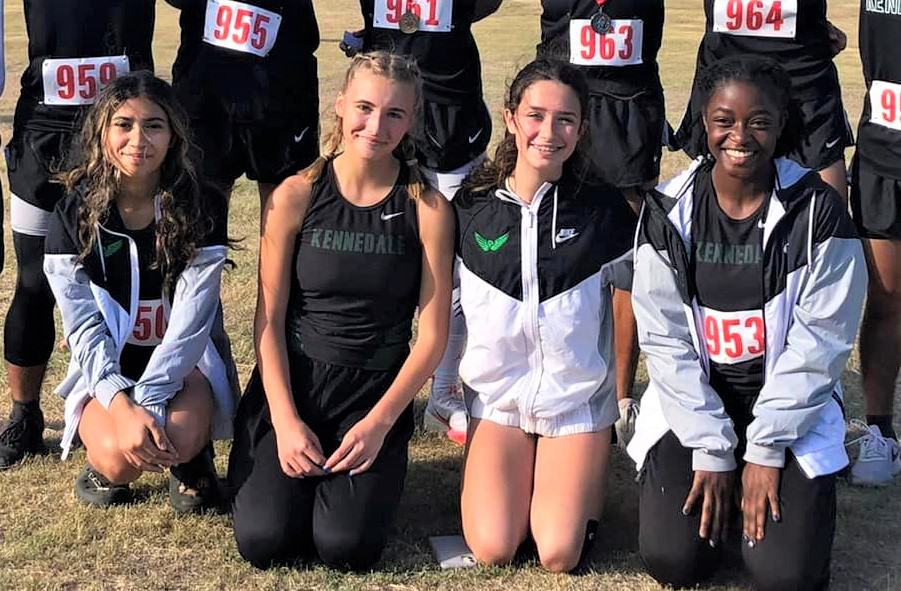 A young Lady Kat team compose of just two sophomores and two freshmen represented Kennedale High School this year in the district meet. They were Abigail Hernandez (SO) with a time of 15:24.04 giving her a #24 rank, Aubrey Haub (SO), Kylie Janae Nealy-Bowers (FR) and Kylie Mathews (FR). Note: For this writer, they should earn the grit award.
Cross Country teams are coached by Philip Irby, KJHS PE Teacher, and Gabby Ndluvo (Coach G), KHS CTE Professional Communications Teacher.
See the district meet results here.
Good season so far for the top Wildcats runners …
The Wildcat Cross Country team including the recent district meet has earned this season at least three 1st place team titles and two 2nd place team finishes.
Top twenty finishers …
The boy's team won the Wildcat Run on August 19, 2022, placing 1st out of 11 other area teams. For the meet in the top twenty were J Marvine #2, J Walker #4, M Wheeler #8, A Gonzalez #13, and C Gonzalez #16.
On August 26 at the Hillsboro Invitational in the small school division, J Marvine was #2, J Walker #3, and M Wheeler #18h.
At the James Smith Invitational in Midlothian on Sept 1, it was J Marvine, J Walker, and M Wheeler finishing 1,4, and 10.
In the Decatur Meet on Sept 10, J Walker finished #5 and M Wheeler was #20.
And, at the Haltom Buffalo Meet, it was J Marvine #1, J Walker #2, M Wheeler #3, C Gonzalez #5, Joseph Farris #6, and G Gonzalez #17.
Side note: Jonah Marvine's best overall time is 15:20.53 according to MileSplit.
A little history …
Kennedale also won district titles in 2021 (Boys and Girls) and in 2020 (Boys and Girls).
Sources for this article came from KHS, MileSplit, and the Kennedale News Search Archives.