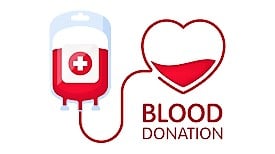 Kennedale High School is holding its annual Faculty/Student and Community Blood Drive. It is an event that has a long history at the school dating back decades.
KHS will host a final blood drive for the 22-23 school year on Tuesday, April 18, 2023, from 12:00 pm-7:30 pm in the KHS PE Gym.
This drive is open to ANYONE in the KISD community (16 years plus) who wishes to donate, thus the extended hours.
In order to guarantee an organized event so that donors can know exactly when to come and not have to wait in lines, time slots are available to select. At this time there are a number of slots available, some around the noon hours and more from 2 pm until 7 pm.
Register for a time slot by clicking on one of the time slots listed as available. See available times here.
Mr. Chriss Burke, the Health Science Technology Instructor at KHS, is coordinating the event with the Carter Blood Center of Fort Worth. Mr. Burke has been the high school sponsor for the drive since 2005.