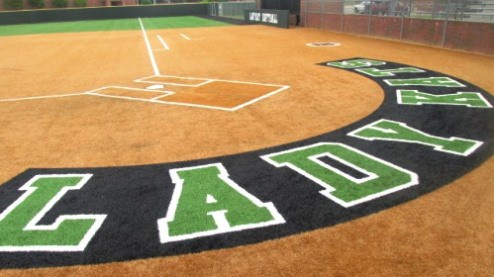 Information for this article came primarily from the GameChanger mobile app
With storms threatening off in the distance, the Kennedale Lady Kats played the Alvarado Lady Indians on their home turf Friday night. Hoping to remain in striking distance of the district-leading Godley Lady Wildcats, the Kats were surprised by Alvarado with a 7-3 defeat.
Alvarado took an early 1-0 lead in the first but the Kats came back in the 3rd with 2 runs to gain a slim 2-1 lead. It ended in the fourth when Alvarado had 4 runs cross the plate and Kennedale couldn't mount a successful counter.
Kennedale had 7 hits on the game with Cadence Verona with 2 of them. Kaydee Mantell added a homerun and Ella Loker, Isabel Martinez, Brooklyn Watts, and Kayla Williamson each added a hit to the total. Martinez and Loker each stole a base. For the Lady Kats, Mantell got the loss – allowing 7 runs on 9 hits, 4 walks with 4 strikeouts
Game story …
INNING 1 – After a strikeout, the second batter for Kennedale, E Loker, got on base on an error. After a second out, Mantell walked but the 5th Kennedale batter struck out. Two were left stranded. Alvarado then had two batters walk, got a flyout, followed by two strikeouts. However, Alvarado scored on the flyout while leaving one stranded. Score 1-0 Alvarado
INNING 2 – Kennedale after two outs got back-to-back singles (K Williamson, B Watts) but can't score after a pop-out that left the two stranded. Alvarado loaded the bases with a walk and two errors. Mantell responds with 3 straight strikeouts leaving Alvarado stranding 3. Score 1-0 Alvarado
INNING 3 – Kennedale got on base with the batter hit by the pitcher but it was followed by a strikeout. Mantel then homered for 2 runs. After a ground-out, I Matinez hit a single but was caught stealing for the 3rd out. No one was left on base. Alvarado got two singles but is unable to score with a ground-out, a fly-out, and a pop-out. Two runners were stranded. Score 2-1 Kennedale
INNING 4 – The Lady Kats grounds out, then hit back-to-back singles (M Jones, and G Garcia), followed by a fly-out and a pop-out. Two were left stranded. Alvarado started with a lineout followed by a single, a walk, and an error with two runs scored. Two more singles followed with another 2 runs, but the final out came on a ground out. One was stranded. Score 5-2 Alvarado
INNING 5 – Kennedale's at-bats came with a dropped 3rd strike, a single (E Loker), another single (C Verona), followed by a fielder's choice out and a strikeout. Kennedale left 2 on base. Alvarado followed with a fly-out, a ground-out followed by a single, and then a line-out for the third out. One left on base. Score 5-2 Alvarado
INNING 6 – Kennedale goes in order with 3 strikeouts. Alvarado reached on an error, grounded out, hit two singles driving in 1 and another runner scored on an error. Alvarado hit two ground outs for the final outs. 1 was stranded. Score 7-2 Alvarado
INNING 7 – Kennedale's last at-bat began with a pop-out, a hit by pitch (J Williamson), followed by a second hit by pitch (E Loker). This was followed by a single with a throw-out and a runner scoring. The final out came next with a line out. The Kats left one on base. Final Score 7-3 Alvarado.
District breakdown and upcoming games …
Alvarado moves to 3-5, 11-13 while the Lady Kats drop to 6-2, 14-8. Godley leads the district at 8-0, 22-6. Venus places 3rd at 5-3, 13-16. Alvarado is in 4th place followed by Hillsboro at 2-6, 9-24, and Waxahachie Life at 0-8, 4-17. Each team has two games remaining in district play.
The Lady Kats will play 3rd place Venus on Tuesday. The Lady Bulldogs are anxious for a second shot at the Kats after losing to Kennedale 15-0 earlier in the season. A win by the Bulldogs would put them in a tie with Kennedale.
After Venus, Kennedale finishes the district season with a rematch with top seed Godley on Friday, April 21, 2023. Godley defeated Kennedale in the first game.
Note: standings have been updated since the last article with missing game scores and placing Venus in 3rd place instead of the originally reported Alvarado. Source MaxPreps and txprepsoftball