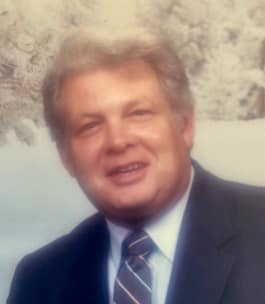 James Harroeld "Butch" Evans of Kennedale, Texas, passed across on May 11, 2021, in the hands of his devoted wife, Billie. Visitation for friends and family will be on Saturday, May 15th 1:00 – 3:00 p.m. at Wade Family Funeral Home, 4140 W. Pioneer Parkway, Arlington, 76013.Services will be at 3:00 p.m. in the Wade Funeral Home Chapel with Dr. Spencer Plumlee officiating.
Burial will follow at Emerald Hills Memorial Park, in Kennedale, Texas. In lieu of flowers or gifts, please give your time or gift to CASA of Denton County in honor and memory of Butch's servant heart. The family would appreciate a message so that they may thank you.
Butch was born on April 2, 1941 in Fort Worth, Texas to Harroeld C. Evans and Fannie Mae Beard Evans.Butch worked in the banking industry in Ft. Worth for decades in an era of what he described as "when being a banker meant something to those you could help". Butch served the community of Kennedale in countless ways as a man of few words with great consequence.
Butch gained his greatest satisfaction in life from caring for his wife and children and his gift of music and ministering to others. Starting as a young boy he played piano and organ for both the United Methodist Church and First Baptist Church of Kennedale. His children's lullaby was "How Great Thou Art".
Butch is preceded in death by his Father and Mother and brother Donald C. Evans. Those left to cherish his memories are his devoted wife, Billie Barnes Evans, his children, Kelli Evans Rod and husband, Steve, Tony Evans and wife, Kerri, Terry Evans and wife, Renee, and Cheri Evans Fry and husband, Eric, nine grandchildren, five great-children and countless other relatives, friends and others that he gave comfort to.
Please keep the Evans family in your prayers in the passing of Butch Evans. *Butch was in the first class that graduated from a Kennedale High School.
Wade Family Funeral Home817-274-923