Special honorees at the annual end-of-the-year convocation of the Kennedale Independent School District were the 14 staff members who were moving on to the quiet life or whatever adventure(s) that they had been daydreaming about all these many years.
Retirees put in 358 years …
As calculated by KISD, the 14 retirees had a combined 358 years in education with 239 of those shares with Kennedale ISD. Topping the list was Wayne Wollenweber (5th grade, JF Delaney) who can claim 37 years in the classroom. Not far behind was Cindy Castleberry (Physical Education, RF Patterson) 35 years. Two more had each contributed 32 years in public school education, Erol Oktay (Director of Bands at KHS) and Karen Wixson.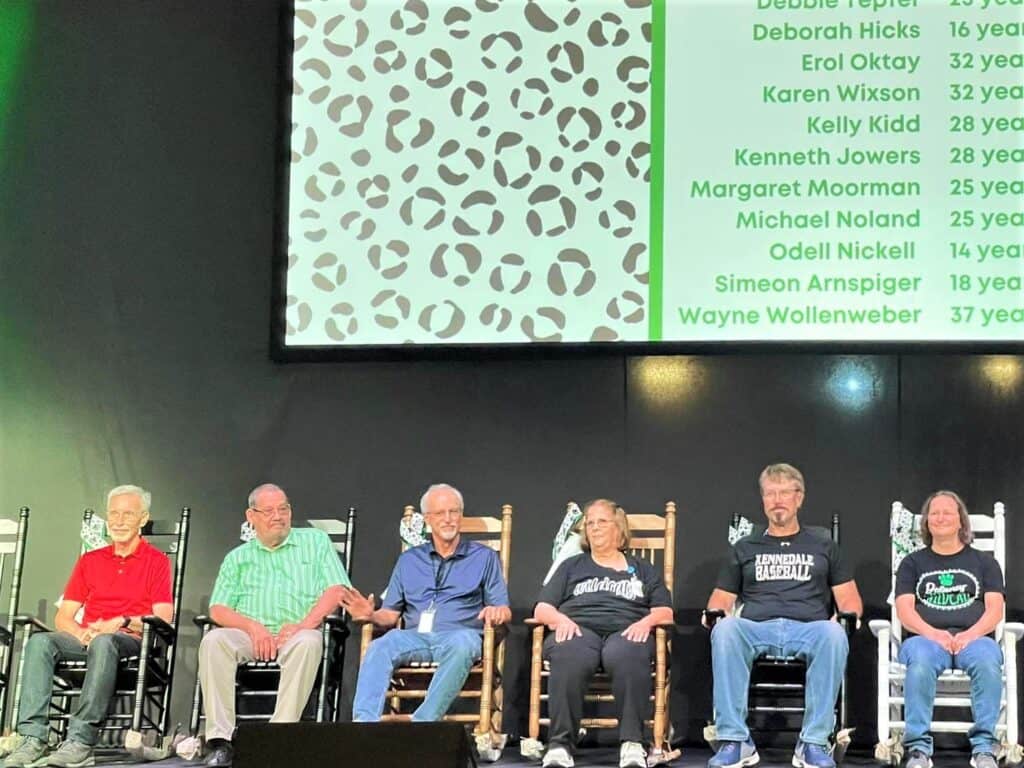 Others retiring include Kenneth Jowers – 28 years, Math/Athletics @ KHS; Kelly Kidd – 28 years, History/Athletics @ KHS; Margaret Moorman – 25 years, Diagnostician @ RF Patterson; Michael Noland – 25 years, Technology Services @ KISD; Cheryl Burke – 23 years; Debbie Tepher – 23 years; Bonnie Ostrout – 22 years; Simeon Arnspiger -18 years, Mathematics @ KHS; Deborah Hicks -16 years; and Odell Nickell – 14 years.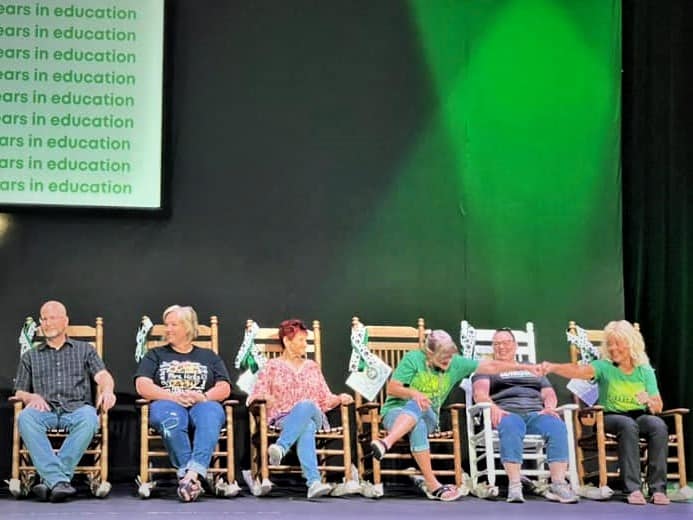 Teachers of the Year …
The KISD Elementary Teacher of the Year – Ginny Limer is a 2nd Grade teacher at James Delaney Elementary. She is a graduate of KISD – Class of 1996. On an interesting note, Ginny was sharing the spotlight with one of her first teachers at KISD, Cindy Castleberry, who was on stage rocking as a newly acknowledged "golden ager". Ginny has been teaching for 23 years.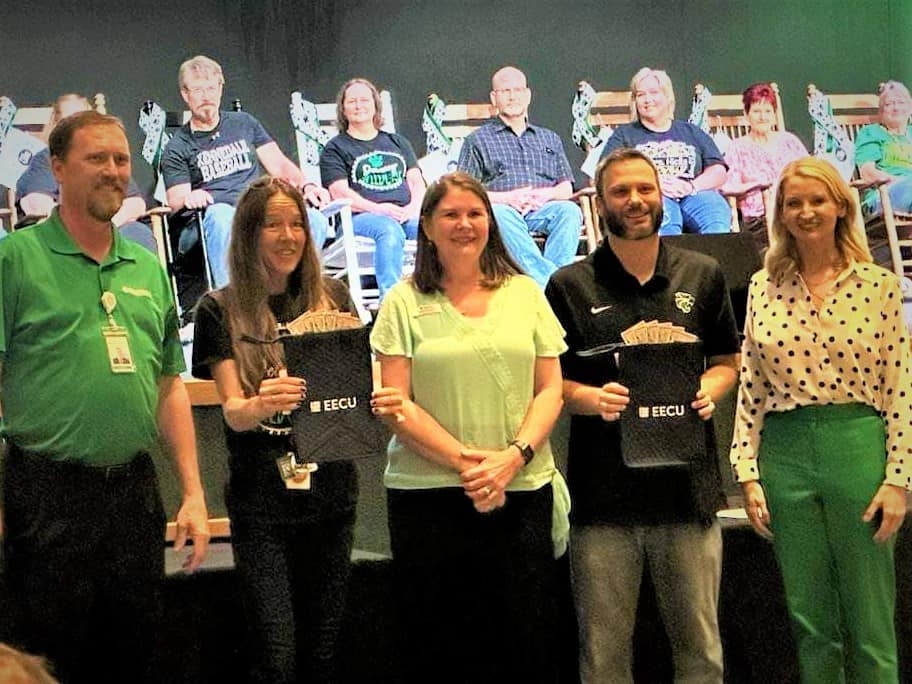 The KISD Secondary Teacher of the Year – Matt Casey started with KHS in 2014 and is a teacher in the Math Department currently teaching Pre-Calculus and Honors Pre-Calulus. He came to KISD from Joshua ISD. Matt also coaches football as an offensive coordinator and is an assistant basketball coach. He has taught for a combined 16 years.
Paraprofessional of the Year …
Shelly Fijewski, Registrar – Kennedale High School
Stacy Bitenc, Special Education Para – Kennedale Junior High School
Denise Miketich, Data Clerk – Delaney Elementary
Evelyn Isch, Receptionist – Patterson Elementary
Auxiliary Staff of the Year …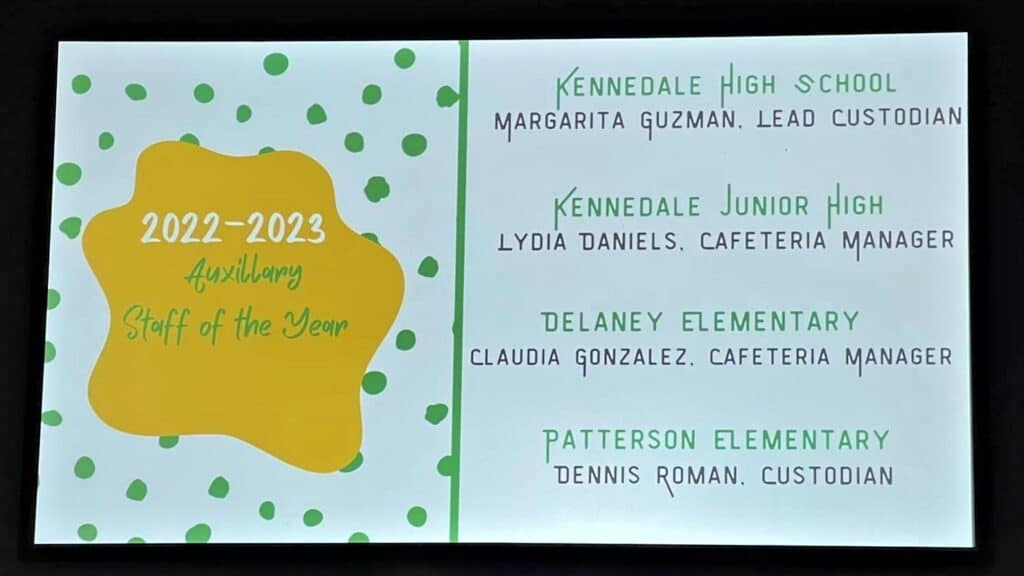 Magarita Guzman, Lead Custodian – Kennedale High School
Lydia Daniels, Cafeteria Manager – Kennedale Junior Highs School
Claudia Gonzalez, Cafeteria Manager – Delaney Elementary
Dennis Roman, Custodian – Patterson Elementary
Final salute for a job well done with years of dedication, service, and irreplaceable know-how.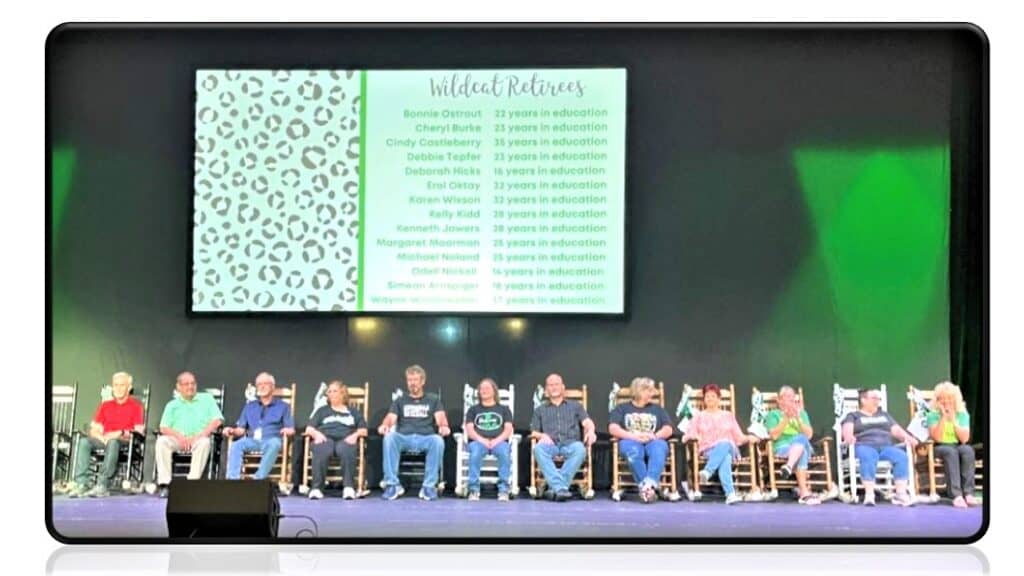 THANK YOU!