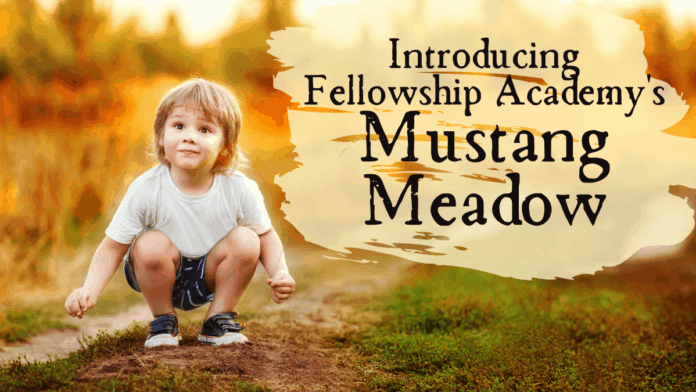 by Meredith Rose
Fellowship Academy in Kennedale, TX, plans to break ground as early as this spring on Mustang Meadow, an interactive outdoor learning space designed to bolster cognitive, physical, social, emotional, and spiritual development in students grades K-12.
"Part of our mission at Fellowship is to maximize our students' God-given potential, and we believe that there is no better place to unearth a child's potential than in the great outdoors," said Head of School Dr. Marilyn Dardenne.
By providing a space for students of all ages to learn in and interact with nature, Fellowship hopes to promote the physical, mental and social health of students, to develop civic attitudes and behaviors in students, to engage families and the community in education and to increase the overall performance of students.
Mustang Meadow will be located on the Fellowship campus and will include four main sections: the Friendship Garden, the Small Animal Center, the Adventure Loop Natural Playground, and the Learning Deck.
Through both the Friendship Garden and Small Animal Center, Fellowship will seek to enhance agricultural education focus and help students develop a sense of stewardship and strong character traits such as empathy, diligence and perseverance.
In the Friendship Garden, students will learn about water use and conservation, square foot gardening, wicking beds and other progressive agricultural practices.
The Small Animal Center will serve as a space for all students to learn trust, nonverbal communication and responsibility through caring for animals. It will also allow high school students to explore an interest in veterinary medicine as a potential career path. The Small Animal Center will include a barn, turn-out pens, washing and grooming centers and feed storage for animals such as lambs, goats, rabbits and chickens.
The Natural Playground will be a space for younger students to build strength, coordination and balance, explore nature and participate in creative play. It will include an outdoor kitchen, music garden, water wall and other interactive features.
Lastly, the Learning Deck will be an outdoor classroom space where students can perform messy science experiments and learn in nature.
Development of Mustang Meadow began in spring of 2020 with the Friendship Garden, but progress was quickly stalled due the COVID-19 pandemic. Fellowship is not deterred by this obstacle and only expresses more confidence in the need for these types of education spaces.
"In this era of COVID-19, learning and play spaces such as Mustang Meadow are more important than ever. Fresh air, natural elements, multisensory experiences and the physical challenges in a natural playground all help children to manage stress and build resilience and self-confidence," said Dr. Dardenne.
Fellowship plans to recommence building this spring and anticipates completion of the project sometime in the fall of 2021.
Various students, parents, staff and community members have committed to helping build Mustang Meadow. Development will be a joint effort between these volunteers and local contractors. Funding for the project currently comes from grants, community donations and student fundraising.
Fellowship will not only use Mustang Meadow for the benefit of its own students but plans to share the space with the community that helped build it.
"As we envision the Mustang Meadow, we envision several hundred children taking great joy in learning and exploring outdoors, building creative thinking and problem solving, and learning to love the natural environment," said Dr. Dardenne.
To learn more about Fellowship Academy or schedule a tour, visit fellowship-academy.org or call 817-483-2400.