Photo: Utu on a return by Staci Otts
Wildcat senior LB Poasa Utu has been named to the Star Telegram's All-Area Football Superlatives.
Six area players were honored, and Utu was the only small school (4A or smaller) on the list.
Other honorees on the list include Player of the Year – Owen Allen RB, 6A Southlake Carroll; Offensive Player of the Year – Jake Wilson QB, 6A Byron Nelson; Defensive Player of the Year – Dustan Mark LB, 6A Southlake Carroll; Offensive Newcomer of the Year – Joseph Williams QB, 5A Mansfield Summit; Defensive Newcomer of the Year – Jake Gillespie, DB, 5A Aledo. Also named was Doug Wendel of 5A Midlothian as the Coach of the Year.
Utu was born in American Samoa and his family moved to Texas when he was nine years old. He picked up the game of football while attending Ousley Middle School in Arlington before attending Kennedale High School.
"Attack every play"
In an article posted in 2021 entitled in part "Play like that play is your last play..", Utu told Rick Kretzschmar from the Dallas Morning News about his philosophy on defense, "Always be on the attack. Attack every play." 
Utu is listed at 6.1 and 205 lbs.
Kennedale's Utu was also named earlier this year as the District 6-4/A Most Valuable Player (MVP).
This year the senior had …
98 tackles,
33 tackles for loss,
6 sacks,
10 QB hurries,
1 blocked punt,
2 interceptions with one returned for a touchdown,
2 fumble recoveries with both returned for touchdowns,
2 kickoff touchdown returns,
5 total touchdowns from either his play on defense or special teams.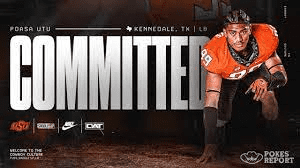 Utu ended the year with 367 all-purpose yards. This includes 33 yards on a reception while playing on offense.
An Oklahoma Cowboy …
Utu plans to attend Oklahoma State in the fall.
For the year, the Kennedale Wildcats finished the season 8-4, 6-1, losing in the second round of the UIL State 4A D1 Championship playoffs to Celina (11-2, 6-0) 34-28.