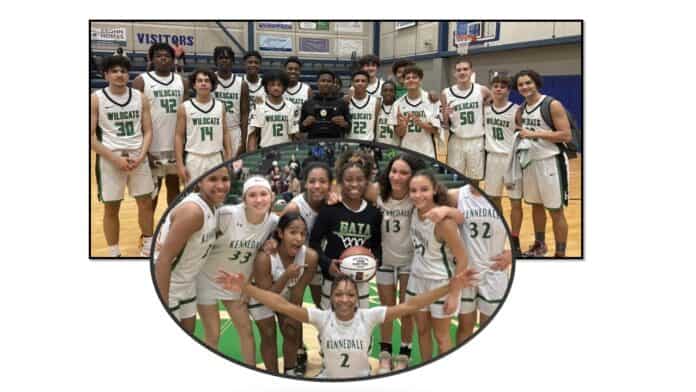 Weather permitting, both the KHS girl's and boys' basketball teams will play Hillsboro Tuesday night there. The Lady Kats will play at 6:15 pm and the Wildcats at 7:30 pm.
The Hillsboro boys' team is 16-10 and 2-4 in district play. The Wildcats (21-6, 5-1) defeated the Eagles in the first round 71-39.
The Hillsboro girls' team is 16-9 and 2-5 in district play. The Lady Kats (14-11, 7-1) defeated Hillsboro 83-43 in their first meeting.
Both varsity teams are battling for the top district spot …
As second-round action starts, the Wildcats are in a three-way tie for first place. Kennedale (22-6), Alvarado (24-3), and Life Waxahachie (24-5) have identical 5-1 records. Kennedale has beaten Life Waxahachie 55-42 at home but lost at Alvarado 66-64. Alvarado has lost to Life Waxahachie 60-53 at home. Kennedale will play Alvarado at home next week on Friday followed by Life Waxahachie on Tuesday, March 7 in an away game.
The Lady Kats (14-11, 7-1) find themselves one game behind Godley (22-6, 8-0). Kennedale will get another chance at Godley next week on Friday in a home game. That will be followed by a game at Alvarado who is close behind at 19-9, 6-2.
In action last week …
The Kennedale Wildcats beat Venus last Friday Venus 91-41 to move to 22-6, 5-1 ending the first round of district play. Venus fell to 6-21, 0-6.
Early in Q1 the Bulldogs, after hitting a corner shot for the first lead, stretched their lead to 7-3. After that, it was all Wildcats. The Cats went on a scoring spree hitting multiple threes and bursting into the lead 19-9 in Q2. By the third, it was 61-30 as Kennedale coasted to the 50-point win.
Leading the Wildcats was Jacoby Lovings (Fr) with 20 points followed by Noah Biles (Jr) with 11 points.
Team Stats (Kennedale/Venus) – Rebounds 38/31; Assists 15/6; Steals 12/3; Blocks 0/0; FG% 49/28; 3PT% 35/19; FT% 85/55. (Note: stats unofficial)