This Weeks Notes 6-13-21
"The Small Giant"
"The Lord . . . will deliver me." (1 Samuel 17:37)
The giant enemy strides into the Valley of Elah. He stands 9 feet tall, and his coat of armor, is made of many small bronze plates, which shine in the sunlight. The shaft. of his spear is wrapped with cords so it can spin through the air and be thrown with greater distance and accuracy. Goliath looks invincible and he thinks he is invincible, but David knows better.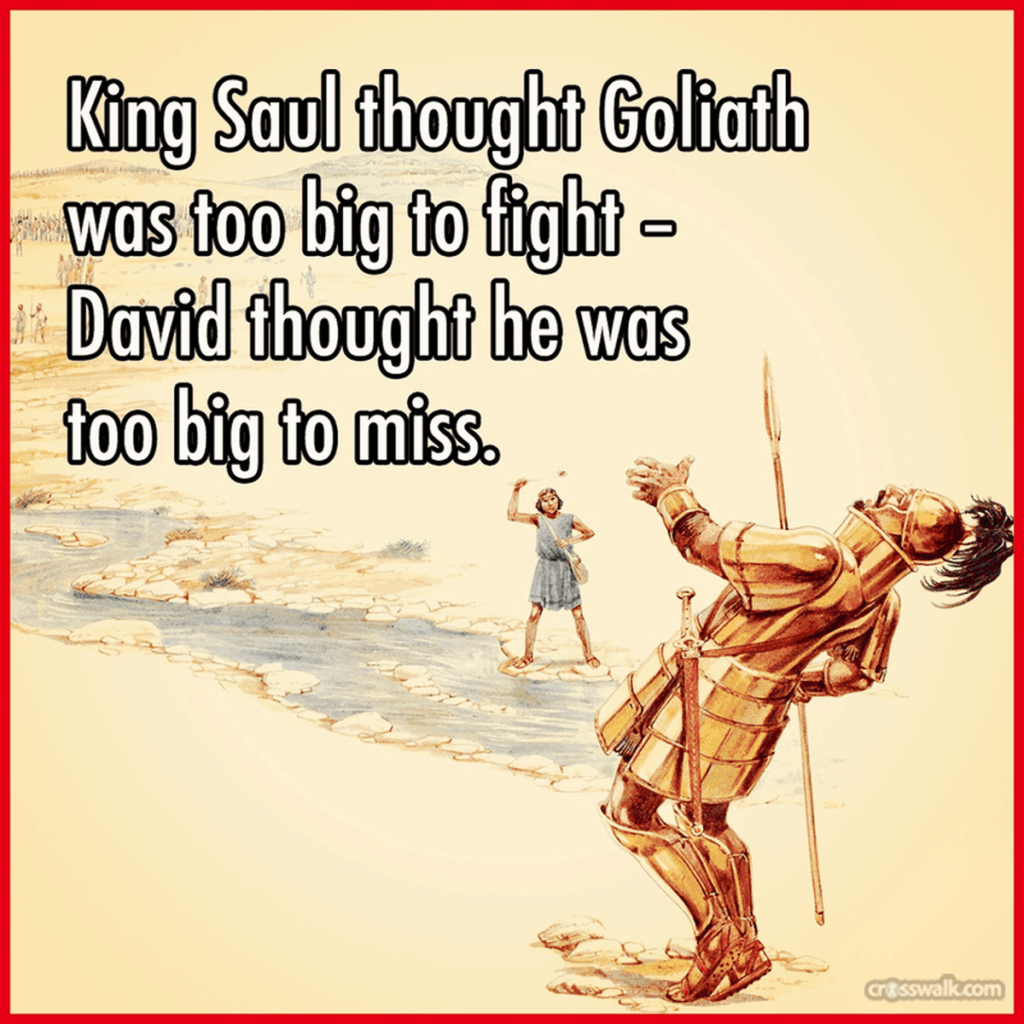 While Goliath may look like a giant and act like a giant, compared to the true and living God, Goliath is small. David has a strong faith in God, a clear view of God and a clear view of the situation. He sees Goliath as someone who is confronting the armies of the living God (1 Sam. 17:26). David confidently appears before Goliath in his shepherd's clothes, armed with only his staff, five stones and a sling. His faith and confidence is not in what he has, but in the God who is with him (v.45).

Think about it, what 'Goliath' are you facing in your life right now? It may be fear, disappointment, grief, relationship issues, illness, employment, parenting, I don't know but you do. With God all things are small in comparison. Nothing is too big for God. The words of the hymn writer Charles Wesley remind us: "Faith, mighty faith, the promise sees, and looks to that alone; laughs at impossibilities, and cries it shall be done." God is able to provide for you, and He may do so in ways you don't expect.

DON'T TELL GOD HOW BIG YOUR GIANTS ARE. TELL YOUR GIANTS HOW BIG YOUR GOD IS. Glory to God!

Tune in Sunday, at 11:00 as we consider "Before The Battle".
All praises be unto God! We will re-open for In-Person Worship on the first Sunday in July 4th, Independence Day.  This is exciting because we will be back together as a church family to Worship and Praise God together in this Sanctuary.
We thank God for all of you being a part of service and love to our community.
Please use our online giving link to support The First United Methodist Church of Kennedale and Mission Store/Food Pantry ministries. Thanks in advance!
https://secure.myvanco.com/YGKA/home
You may also mail your Tithes and Offerings to the church. FUMC Kennedale – Post Office Box 146 – Kennedale, TX 76060
We thank you for your Generous Giving. Follow us on our Facebook page: https://www.facebook.com/KennedaleFUMC
"I don't know how, but I know WHO!"
Grace and Peace,