Thanks to JF Delaney and RF Patterson for the photos used in this article.
After months of developing outlines and designs, drawing up specs, then moving into the building and construction phase, groups representing Kennedale ISD's two elementary schools were ready for presentation. They just needed to put the final touch-ups on their written design proposal, giving the whys and wherefores, and done in an essay format.
No, these were not groups of parents and citizens making a presentation to the KISD School Board planning for the future growth of the schools. These were teams of 4 & 5-grade students who were making a presentation in the Future Cities Competition which was held last week.
About Future Cities …
The Future City Competition (FCC) is a project-based learning experience where students in grades 6-8 imagine, research, design, and build cities at least 100 years in the future. Schools or recognized youth organizations can form teams and have the option to compete in the state competition. Students spend approximately five months (September-January) completing the following deliverables: a 1,500-word city essay; a scale model of their city built from recycled materials; a four-part project plan; a 7-minute team presentation; and a Q&A session with judges (professional engineers who volunteer their time). For grades 4&5 there is a version of this same competition that includes most of the same requirements but is done on a more local level. The junior program is only available in North Texas and a few other FC regions at this time.
Good results for Kennedale junior engineers …

Both schools, competing separately, sent several teams to the 23rd Annual North Texas Future City Competition. One team won Best Essay (Delaney Elementary), one team won Best Engineering Innovation (Patterson Elementary) and another team won Best Water Management (Patterson Elementary).


Teachers and sponsors for the teams were Mrs. Erika Wendt (Delaney) and Mrs. Kristi Murrell (Patterson).
Other elementary schools involved included…
Armstrong Elementary, Sachse; Chapel Hill Academy, Fort Worth; Donald Elementary, LISD STEM; Doral Academy, Buda; IW Evans Intermediate, Bonham; J Delaney Elementary, Kennedale; Lorena Elementary, Lorena; Lindsay Elementary, Lindsay; McKeever Elementary, Alamo; RF Patterson Elementary, Kennedale; Ravia Public Schools, Ravia, OK; Washington MS, El Dorado, AR; Watson Technology Center, Garland; Woodland Elementary, Graham; and, Universal Academy, Coppell.
Project guidelines/requirements are thorough …
According to the guidelines each consist of three 4-5th grade students, an educator, and an engineer-mentor.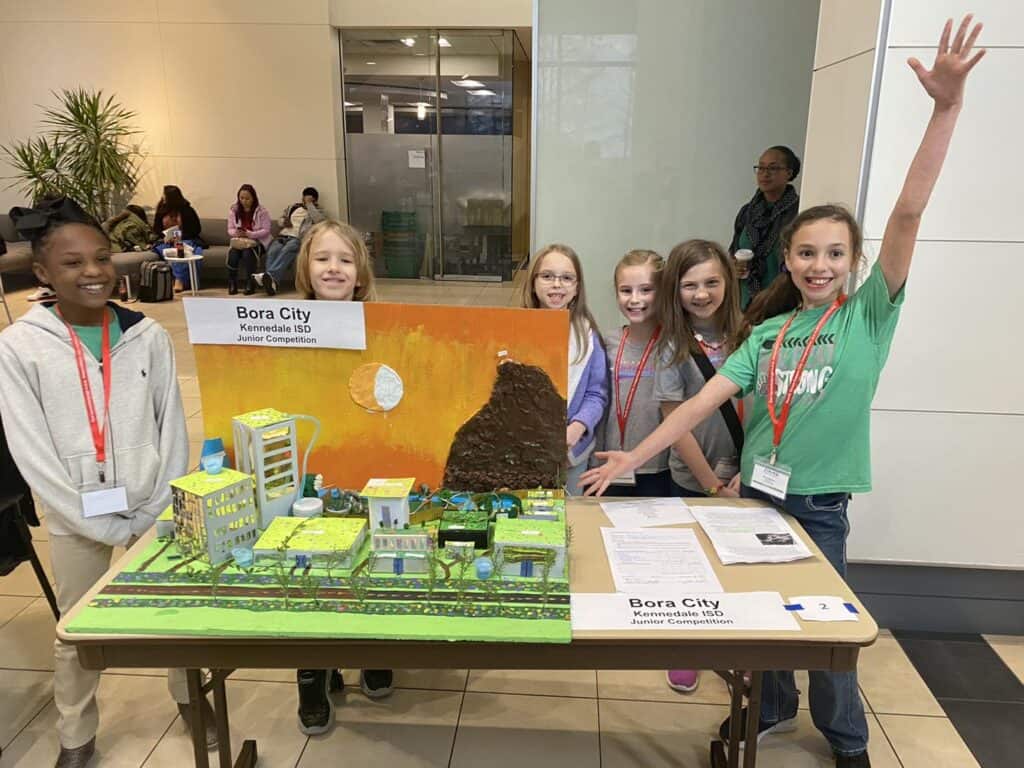 RESEARCH ESSAY: Will introduce the team's city of at least 100 years in the future; describe what the city and life were like in the past and the effects climate change had on your city; and will include one climate change effect. The essay will then describe the group's adaptation solution – using technology to reduce the harmful impact of climate change; and, one mitigation technique – using technology to reduce greenhouse gases.
The essay should be no more than 1,000 words and free of grammatical and spelling errors. It can include a maximum of four graphics. It should also have a bibliography that cites at least three sources of information.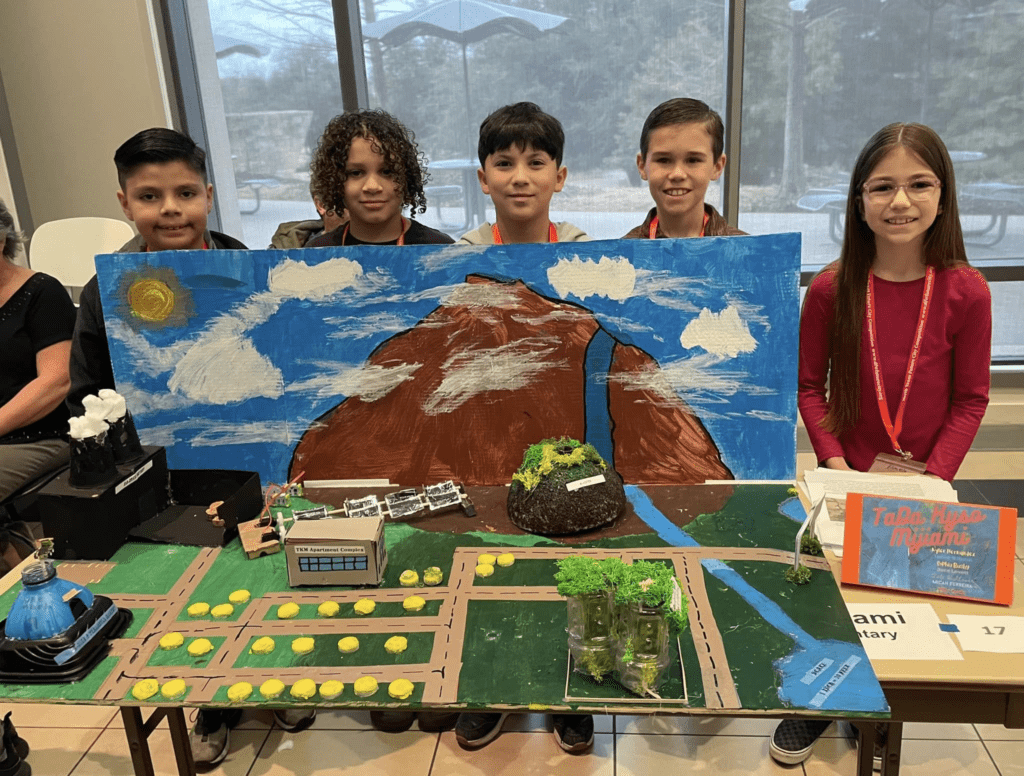 While there will be no formal presentation by the students, the team will stand with their model during judging to briefly explain their research solution and answer the judges' questions.
MODEL REQUIREMENT: Students will build a physical scale model of a section of their city using recycled materials. This is the opportunity for the team to realize their vision of the city and see their ideas for the future come to life. The model will be built to scale (scale chosen by the team). It will illustrate the team's concept of their future city. It will be focused on demonstrating the team's solution to the annual challenge – climate change. It should include at least one moving part. The model will be built primarily of recycled materials. The total value of the materials used may not exceed $50. The model size will be no bigger than 25″ (w) x 36″ (l) x 20″ (h). It will be judged according to the rubric criteria with includes quality of design and workmanship, innovation and futuristic elements, and teamwork.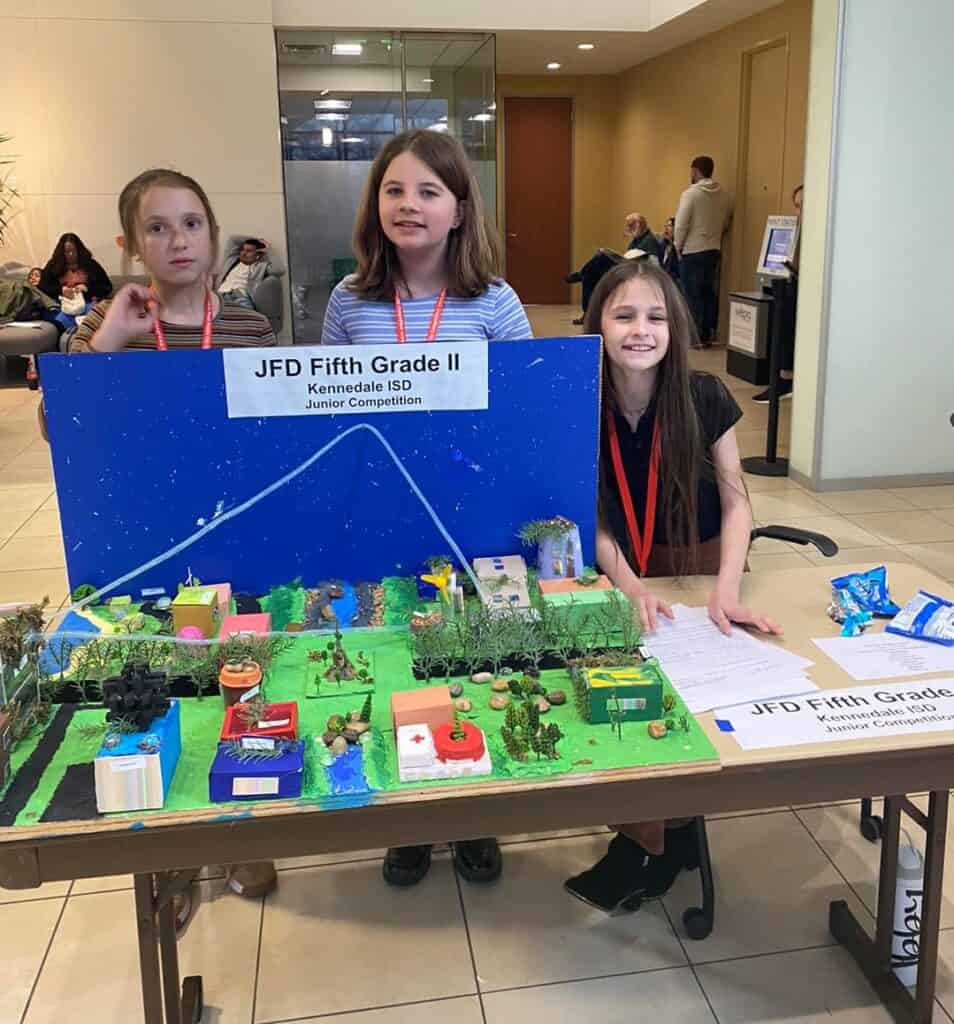 Judges will spend approximately 5 minutes with each model display.
Adult team members (teachers, mentors) may observe but are not allowed to participate.
PRIZES: Future City Competition Junior will provide prizes for Best Essay, Best Model, and Best Overall Junior Team. Sponsors will also give out Special Awards recognizing accomplishments in various categories, such as Green City, Energy Efficiency, etc.