The "mountain range" that borders Kennedale's northern limits and that has been built by the City of Fort Worth, may turn out to be an unexpected cash cow, although a small one for Cowtown.
Fort Worth owns the landfill that covers this area. Not that long ago, it was just a small mound, a bump barely noticeable above the tree line. It has grown to include two different sites. The largest is just off Dick Price Road. The second smaller landfill is further down the road past Kennedale-Everman Road and across from Linda Road.
According to the Fort Worth Star-Telegram, the FTW City Council plans to explore the possibility of selling the methane gas that the decomposing trash generates on a regular basis. At present, the gas is routinely burned off through a process referred to as "flaring".
A gift that gets on giving – think royalties …
Using the term gift loosely, the council has been told that while the exact amount of money that could be made is unknown, but, the gas will continue to be produced long after the landfill closes. The Southeast Landfill is set to close in the next 15 years.
Republic Services operates the growing landfill. Republic also operates Arlington's landfill which is located in Euless. Kennedale's trash is now part of Arlington's collection. Although, Kennedale residents can take bulk trash to the Fort Worth landfill site once a year to an entrance located at 4144 Dick Price Road, Fort Worth, TX 76104. It requires a state-approved id and a copy of a Kennedale utility bill.
Will the mounds continue to grow forever …
So far there have been no reports of 3-eyed green hair fish crawling out Village Creek, which winds along Kennedale's border and on the edge of the larger landfill. But there are been real issues for those Kennedale residents who have lived across the street from the landfill on Dick Price Road. Some are minor and some border on major irritations resulting from constant truck traffic, trash, lines of trucks sometimes who are waiting their turn to enter the landfill limiting road traffic and blocking driveways, and even roosting vultures that flock to the garbage that is dumped at the landfill.
The Fort Worth Report had an article that cited a flood back last year that Kennedale resident Paul Hooper has put back on landfill operations. That was debated by all parties involved. The City of Kennedale at the time said the water came from across the street which was the City of Fort Worth's responsibility. Fort Worth has absolved itself calling the flooding waters a once-in-lifetime event, akin to an act of God and could not have been prevented. Republic Services denied that its operations had anything to do with it.
One estimate has put Hooper's loss at $25,000. A Republic official offered $8,000 says Hooper but he declined when it included a provision that he pursues no other claims. The City of Fort Worth later showed up to clear out and regrade the bar ditches along that section of Dick Price.
But for those who can remember when there was no landfill and when looking north from Kennedale Mountain, they saw a horizon filled with green. It may still happen.
In the early 2000s, the landfill was projected to be in operation until 2048-50. They are now saying within the next 15 years and sooner than later.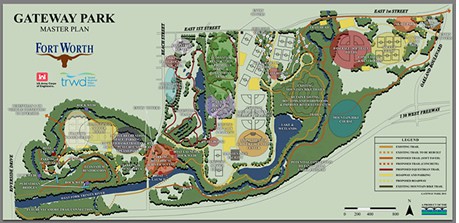 It can happen and it is supposed to. There was a time, not that long ago when Fort Worth operated a landfill just east of downtown along I-30 between Beach and Oakland. It closed in 1993 as operations moved in part to the Southeast Landfill. Gateway Park, a 791.5 park, now sits on part of that former landfill. No vestiges of the old landfill remain.
Note: None of the lands in the discussion are in the Kennedale City limits although some of the property is in the KISD boundaries. No property tax revenues are generated.