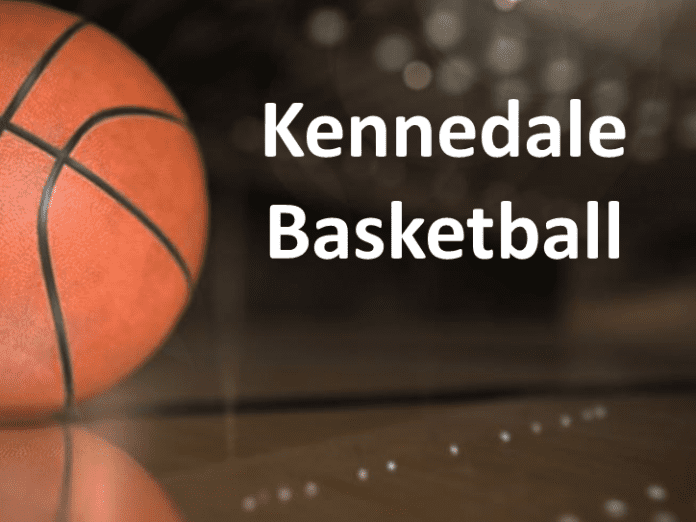 Alvarado usually proves to be a tough game regardless of records. It was so when the Cats hosted the Indians Tuesday night and came away with a three-point win.
Kennedale improved their record to 4-1.
It was a close game all the way. Down 7-2 early in Q1, the Wildcats fought back to tie the game at 8-8 and finished the 1st up 10-8.
Kennedale outscored Alvarado 9-5 in the Q2 to take a 19-13 lead into the half. It was those 6 points that made the difference in the end.
Alvarado fought back in the Q3 outscoring the Cats 16-15 and again in Q4 by a margin of 14-12. All in all, Alvarado could only make up 3 points on the Cats ensuring the Wildcat win.
A check of stats shows how close the game was …
As a team, Kennedale outrebounded Alvarado 32-29, led in assists 11-10, and had 11 steals to 7 by Alvarado.
Alvarado led Kennedale in shooting percentage 40% to 30%, in 3 pointers by 36% to 21%, and in free throws 60% to 21%.
Points scored by Kennedale players …
Jordan Miller (SR) with 13 pts led the team followed by Christion Whitaker (SR) 7, Breylen Harris (JR) 7, Hunter Limbaugh (SR) 7, Austin Pickett (JR) 6, Rishaun Gipson (SR) 2, Landon Brooks (SO) 2, and Tyler Choice (JR) 2.
Tournament play next …
The Wildcats will play in the North Texas Invitational Tournament at Sanger High School this weekend. Thursday, Kennedale in pool play will start with Sanger at 5:30 pm.
Friday will continue pool play with a game against Whitesboro at 1:45 pm. Bracket play will follow based on wins and losses with the championship played on Saturday. The Kennedale JV will also be playing in the tournament in the JV Division.
Varsity teams in the tournament besides Kennedale and 4A Sanger include 4A Ferris, 4A Krum, 4A Decatur, 3A Nocona, 5A Denton, 3A Bowie, Covenant Christian – GV Faith, 4A El Paso Riverside, 4A Hampton Prep, and 3A Whitesboro.