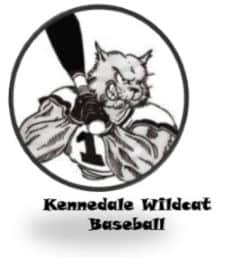 Season recap so far …
Alvarado Tournament (February 23-25) – The Wildcat went 1-2-1 winning big over 4A Borger (10-0), losing to 4A Springtown (6-0) and 3A Maypearl (4-0) while tying 5A FW Arlington Heights (2-2)
Kennedale Classic (March 3-4) – Playing at home at Jet Teague Ballpark, the Cats bounced back winning all three games by beating 4A FW Diamond Hill-Jarvis (6-0), 5A FW Northside (13-1), and 5A Everman Bulldogs (8-3).
Irving Tournament March 9-10 – Kennedale had a tie and then suffered two losses. Kennedale fought 5A Crowley to a 4-4 tie followed by a 0-1 loss to 5A Boswell and then a loss to 5A Richland (8-2).
Regular season play …
In regular season play the Wildcats have defeated 4A Castleberry (9-2), 4A FW Carter-Riverside (12-0), and then defeated Venus (29-0) and again 17-0 in their first District 10-4A match-up.
District make-up …
District 10-4A is composed, along with Kennedale (8-5-1), of Godley (16-1-1), Life Waxahachie (9-7-0), Hillsboro (7-6), Alvarado (6-10-1), and Venus (1-9). As indicated Godley remains the dominant force in the district. Kennedale will give them a challenge but so could Life Waxahachie Life. Both Alvarado and Hillsboro plan to have a say also.
Five senior and three junior starters returned …
Coming off a 16-15, 6-6 season that saw the Cats go three deep in the playoffs in 2022, Kennedale has eight starters returning. These include one all-state and five all-district players.
Returning players are Nevyn Johnson, Sr, CF/P (.422, 18 RBI, 2nd Team All-State); Addison Jamie, Sr, P/3B (.354, 1.89 ERA, 1st Team All-District); Ty Blocklyn, Sr, OF (.268, 15 SB, 12 RBI, 2nd Team All-District); Chase Evans, Sr, SS (.313, 10 SB, 2nd Team All-District); Dylan Harrison, Sr, 1B/P (.357, 9 SB, 18 RBI, 2nd Team All-District); Josh Sanez, Jr, 3B (.333); and, Hayden Swenson, Jr, 1B/P (.354, 11 RBI).
Head Coach is Paul Trantham who has been in that position for 6 years and teaches American History/AP History. Assistant Coaches are Kelly Kidd (Social Studies), Chad McBroom (Special Education), and Corey Taylor (P.E. Outdoor Education).

Side note: Corey Taylor, a 2011 KHS graduate, left an outstanding record on the field while playing for the Wildcats in three different sports. He lettered three years in basketball, and two years in football. Taylor was a significant part of the 2010 3A State Champion Basketball team under Head Coach Jet Teague. A three-year starter for Kennedale he went on to play for the Texas Red Raiders and in the NY Mets organization. There is much more that could be said, but all that is for another time. Taylor, right now, is intent on proving your cred as a teacher and a coach.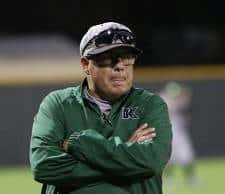 More Notes: Paul Trantham is the ranking coach for KISD, which means the longest-serving active coach while employed by the district, going back to 1995. He taught and coached for a number of years at Castleberry ISD prior to coming to Kennedale. (If you are a current student of his, you might ask if was teaching when Eisenhower was president but there could be no guarantee of what your final grade may be.)
Undefeated in football …
Primarily, he has coached baseball and football over the years and was the assistant head coach for the 2010 State Baseball team. He does have the unique distinction of being the only coach at Kennedale football coach on the staff to have never lost a game as a head coach at least in recent memory. Back in 2016, he won a game vs Mineral Wells 38-28 as the "acting" head coach of the Wildcat football team in Coach Barrett's absence due to illness, a rare event if there ever was one for either Barrett or Trantham. In Trantham's case, he promptly retired from his temporary gig with his undefeated record intact.
Throughout his 43 years in teaching, he has won accolades as both a classroom teacher and a coach.