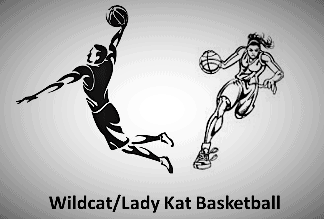 Wildcats with the W …
"Wildcats get the win 55-43 over Ferris! Senior guards came up big! @BreylenLevi (back to back to back 3s) & @AC_pickett10 (21 pts) led the way!" (Kennedale Basketball on Twitter: @BasketballatKHS.
Kennedale fell behind early in this game with Ferris up 10-7 at the end of Q1. By halftime, Ferris was still on top 23-19. But as "oft" as not, the Cats took control in the last half of the game outshooting the Jackets 17-10 in Q3 for a 36-33 lead. Kennedale added another 19 points to the Jackets' 10 and won going away 55-43.
Tellingly, the Wildcats led in all general team stats but one category, where it was a tie. Kennedale and Ferris tied in steals with 5 each.
TEAM STATS (Kennedale/Ferris): Rebounds 35/26, Assists 8/4, Steals 5/5, Blocks 3/0, FG% 46/33, 3PT% 32/24, FT% 58/50.
Cats are now 21-6, 4-1, and will finish up the 1st round of district play this Friday, January 18 at home against Venus. The Wildcats remain 1 game behind the district leader Alvarado HS
Lady Kats with the W …
"Kennedale Lady Kats beat Farris 61-39!!! On to the next …" (tweet by Kennedale Lady Katbball on Twitter: @khsladykatsbb.
While the score was off a little in the tweet, Kennedale won this game (59-39) in part by stealing the Yellow Jackets crazy, hitting more of their 3-pointers, and besting them at the free-throw line.
Kennedale led 9-4 in the first, and 20-12 in the Q2. Ferris made a charge in the 3rd cutting it to 28-23 before the Kats took the spread up to 13 points (38-25) before winning by 20.
Team Stats (Kennedale/Ferris): Rebounds 32-34; Assists 13-11; Steals 19-9; Blocks 2-3, FG% 36/38; 3PT% 32/17; FT% 62/23.
The Kennedale Lady Kats are now 13-11, 6-1 on the season. Next up is Venus at home (KHS) at 6:30 pm. Venus is 4-21, 0-7 for the season.
The Lady Kats remain one game behind Godley who is atop the district standings 21-6, 7-0. The rematch will be Friday, January 27, 2023, at home.