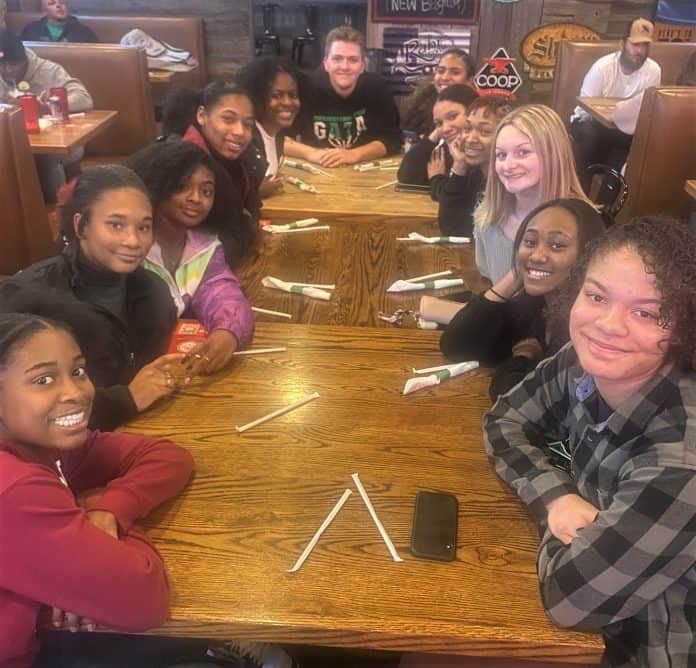 The #12 Kennedale Lady Kats played in the 40th Annual Fantasy of Lights Basketball Tournament in Wichita Falls Friday and Saturday. The tournament is hosted by Midwestern State University.
Thirty-seven high school teams participated, divided by boys and girls teams, and assigned into small and large school divisions. The Lady Kats played in the large school division.
For the tournament, the Lady Kats (14-4) finished with 2 wins and 2 losses. The wins came against 6A Odessa High and OKC Storm. The losses were suffering in games versus 5A Wichita Falls Rider and 6A Byron Nelson of Trophy Club. (The OKC Storm is an athletic team for homeschool students in the Oklahoma City area. The program post that the Storm has won 93 Gold Balls at the HomeSchool National Tournament)
Friday's pool play …
Kennedale open the tournament against WF Rider and faced the hot hand of Jaylynn Bristow (JR) from Rider. She scored 44 points in the game while grabbing 25 rebounds in Rider's win over the Lady Kats 72-67. Those were both Rider school records. For Kennedale, Reagan Jackson (JR) led with 39 points and Kenzie Jackson (FR) with 12 points.
Later Friday, Kennedale bounced back and overwhelmed Odessa High 70-36. Jayla Allen (SO) had 24 points while Reagan Jackson (JR) scored 22 points for the Kats.
Saturday bracket play …
Kennedale playing in the Silver Bracket semi-finals won the game against the OKC Storm, dominating the team in a 61-40 victory.
In the championship round, Kennedale faced 6A Byron Nelson. It was a hard-fought game, with the Kats losing the game by 2, 55-53. Kenzie Jackson (FR) and Peyton Landry (JR) led the team in scoring with 19 and 18 points respectively. Missing for that game were two starters for the Lady Kats.
The Kats now have a 14-4 record and are ranked #12 in Class 4A by TABC. The Kats will play at 5A Crowley this Tuesday evening with the varsity game set for 7:30 pm.