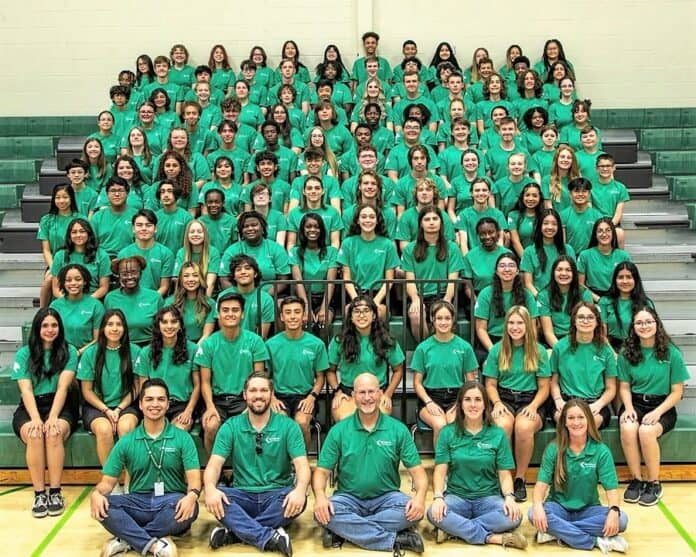 All top programs have the same common themes – strong leadership, passion, defined goals, dedication, tradition, and hard work followed by more hard work.
There is more than one program like that at Kennedale High School. The KHS Wildcat Band is one of those. Starting in sixth grade the basics of reading music, instrumental play, and scales are taught along with all the other key components previously mentioned.
a tradition established …
As a result, the local high school band is consistently one of the tops in the state for their class, earning statewide respect as a result.
Every freshman band member learns early about the state year. It is the year that the marching band gets to compete in the fall state marching championships. It is a competition that for Kennedale happens every other year and success has been a long-established tradition in the program.
Explainer: The UIL divides the six classifications used in Texas (1A, 2A, 3A, 4A, 5A and 6A) into two groups with each group alternating years for the state-level competition. The even-numbered classes (2A, 4A, and 6A) compete in even years, such as this year, 2022. The odd-numbered classes (1A, 3A and 5A) will follow in 2023.
In a state year, the best performances at area contests from across the state earn their ticket to the Alamodome in San Antonio where the championships are held. In Class 4A twenty bands will be competing and Wildcat band members plan on being "in the room" where it happens. There are two performances, a preliminary and a final.
Each band receives a rank base on scores. The Kennedale Wildcat Band has not missed the state contest in their last 8 attempts beginning in the year 2006. The Cats have finished as one of the top 10 bands in their last 4 tries earning 5th place twice. UIL State Marching Archives
Passed the first test ready for the next …
Kennedale is in the early stages having just moved past the Region 30 contest in Springtown this past weekend. Kennedale finished First in Division. The Wildcats now advance to the Area Championship set for October 29, 2022.
Director and Assistant Directors …
Erol Oktay has been a Director of Bands at Kennedale High School for 21 years. Within his first five years, Kennedale made its first appearance at the UIL State championships.
Kelli Wilson is the Assistant Director of Band and is in her second year.
Connor Bordelon-Ross is the Assistant Band Director/Percussion Specialist.
Gilberto Diaz III the Assistant Band Director at Kennedale Junior High.
Meghan Lockwood Assistant Band Director at Kennedale Junior High.
Follow the Kennedale Band on Facebook for more information.
Additional information at KHS Band Homepage