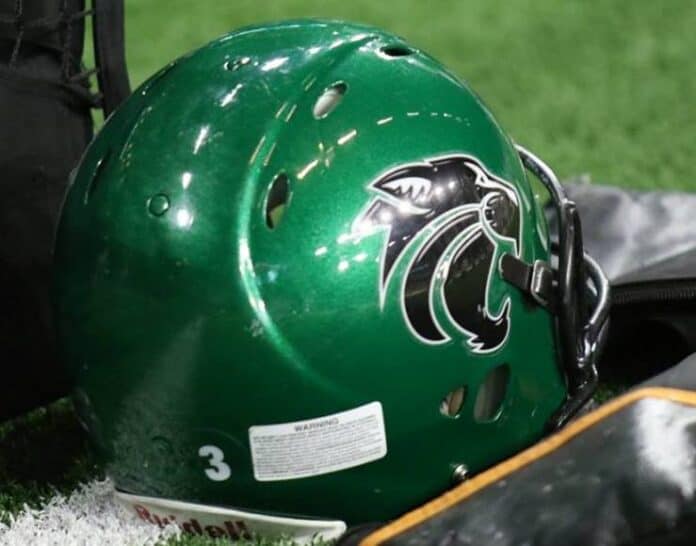 4A Kennedale takes a step up in their next opponent, the 5A Division II Denison Yellow Jackets. This is not a completely new opponent for Kennedale. The Wildcats and the Yellow Jackets played a two-game series in 2011 and 2012. The Cats swept that series.
Denison has one of the largest enrollment numbers that the Cats will see this year. The reported UIL enrollment for the high school in Denison was 1,327 last year. This compares to Kennedale's 997. (Note: Kennedale has yet to recover the pre-covid number of 1022 that was reported in 2019, but it is up from 955 that was reported in 2020.)
Denison finished 7-4 last year, coming in 4th in district play, before losing in bi-district playoffs. Wins came against Sherman, Brewer, Frisco Memorial, Frisco Rock Hill, Lake Dallas, Frisco Lebanon Trail, and Princeton. Losses came against Lovejoy, Frisco, Frisco Liberty, and Ennis.
This year's district opponents for the Jackets include some familiar names to Kennedale followers including Crandall, Melissa, Princeton, and Terrell along with Poteet, Greenville, and Lovejoy.
Denison has a long football history dating back to 1902 according to texashighshchoolfootballhistory.com and has had many highly successful seasons. They have not missed the playoffs in the last nine years. Second-year Head Coach Brent Whitson is hoping to recapture more of the 12-1 and 13-2 season records of years past.
The Yellow Jackets lost much to graduation last year, returning 4 starters on offense and 4 on defense. But they do have some playmakers at the quarterback and running back positions along with strong performers in the defensive backfield and along the offensive line.
Denison averaged 166 yards passing per game last year while running for 229 yards per game.
Denison like Kennedale has won one and lost one so far this season. In their opener, the Yellow Jackets beat Sherman 28-21 but then lost to Frisco Reedy 41-7 last week.
The Jackets are currently ranked #16 in Texas Class 5A D-II by MaxPreps. Kennedale is ranked #28 in Texas Class 4A D-I.
The Wildcats are still filling gaps due to early-season injuries. The Cats got a needed lift with their win last week over Alvarado 27-12 but will need all of their playmakers and more when facing their bigger opponent this week.