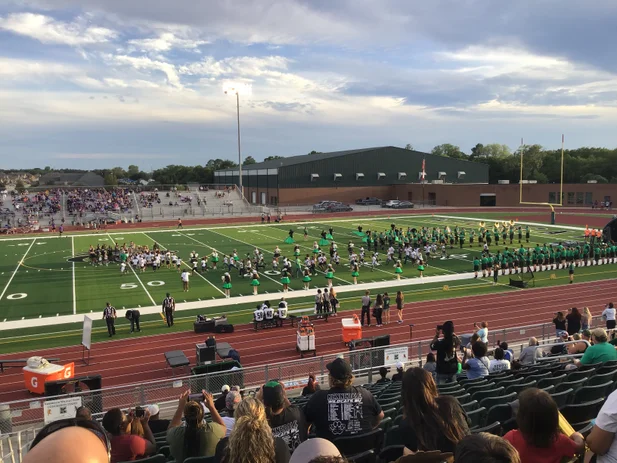 Playing at home last week, the Wildcats showed what the future might be when they gave their fans a win to even out their record at 1-1. Overall, it was a good game for the Cats who are yet to be at full strength due to early season injuries.
Alvarado dominated in ball control, running 72 plays compared to 47 for Kennedale. The Indians had 18 first downs compared to just 9 for the Cats. Kennedale, however, covered more ground than Alvarado with 174 to 123 yards for the Indians. Through the air, Alvarado had 120 yards while Kennedale had a meager 20.
But it was in the big play category that Kennedale stepped up. The Cats caused and recovered two Alvarado fumbles returning one for a touchdown, intercepted the Indians twice with one returned for a touchdown, and tackled Alvarado 15 times for losses including 3 sacks and 10 hurries.
Being harassed by the D-Cats, Alvarado on their long drives could manage just two field goals and one passing touchdown with a missed extra point.
The Wildcats were able to rush for 2 touchdowns, score 2 more touchdowns on defensive plays, and made 3 points off of four extra-point attempts.
A point of concern remains as the offense output for the Wildcat, in both the rushing and the passing category falls well short of the per-game average of the 2021 Wildcats of 251 and 41 yards respectively.
It was a significant difference for the ground game which has always been Kennedale's bread and butter. And yet, it held the promise of continued improvement from the first game in which the Cats passed for 40 yards but couldn't break the century mark with a miserable 71 running yards during the 34-7 loss to La Vega.
Playmakers for the Wildcats for the Alvarado game in no certain order include …
• Jeremiah Clea (Jr) 78 yards rushing and 1 touchdown;
• Cameron Lyles (SR) 51 rushing yards;
• Jaylen Webb (SR) 20 receiving yards, 1 intercept and 5 tackles;
• Tyler Greenfield (So) 10 tackles with 3 for loss;
• Poasa Utu (SR) 14 tackles with 6 for loss including 1 sack and 1 fumble recovery for touchdown;
• Kameron Sallis (SR) 9 tackles, 1 interception for a touchdown along with 3 successful pass defenses;
• Zach Conner (SR) five tackles including 2 quarterback sacks;
• Special Shoutout – Laurence Hodges (JR) stepping in at quarterback for injured starter Jackson Hammonds (SO)
The Wildcats have been known for their stinging opportunistic defense and powerful running game. The defense was awake and well Friday night.
Friday night's game is at Denison with game time set for 7:30 PM. More about this game to follow.