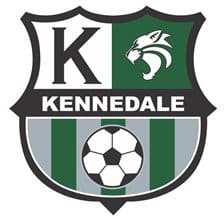 The Kennedale Wildcat Boys Soccer team is currently in 2nd place in District 6/4A at 5-2 (10-3-4). Leading the district is Life Waxahachie at 6-1 (15-3-2).
Venus (9-5-0) is in 3rd place along with Alvarado (8-10-1) with identical 4-3 records. Ferris followings at 2-5 (5-7-5) and then Godley at 0-7 (2-10-0).
Started second round of play …
The Cats are in the second round of play. Tuesday they lost to Alvarado (2-1) making it a split with the Indians this season. Two weeks ago Kennedale won 1-0.
Friday night Kennedale travels to Waxahachie to play the district leader Life. Kennedale hopes to correct a first-round loss that ended 4-4 and won by Life in a shootout (10-9).
After the Life game, the Wildcats will finish their regular season playing at Godley next Tuesday and then Venus at home on Friday of next week.
2022-23 Wildcat Team members …
Jose Balderas (Sr), Adrian Gonzalez (Sr), Carlos Gonzalez (Sr), Austin Thiele (So), Nicholas Castro (Jr), Glen Gonzalez (So), Eduardo Mejia (Jr), Mohammed Ibrahim (Sr), Kai Aguilar (So), Lance Pate (So), Maddox Wheeler (Sr), Daniel Castor (Sr), Khang Pho (Jr), Benjamin Puga (So), Luis Ojeda (So), Silas Marvine (Jr), and Julius Perez (Sr).