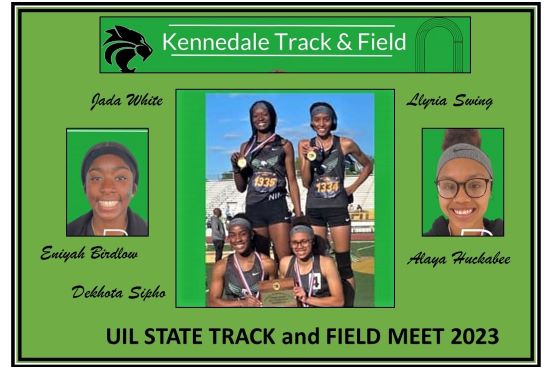 The UIL State Championship Track and Field Meet was held last week, May 11-13, 2023 at Mike A. Myers Field in Austin, Texas.
Representing and placing for Kennedale High School were just 5 Lady Kats. On the strength of these ladies' performances, Kennedale earned 10th place (tie) in Class 4A. At least seventy different 4A high schools were competing at the prestigious meet with one or more athletes.
Top ten 4A Girls teams in order were Canyon, Paris, Royal, Frisco Panther Creek, Huffman-Hargrave, Stephenville, FW Dunbar, Iowa Colony, Giddings and Kennedale/Sinton (tie).
Earning points for Kennedale Lady Kats …
Alaya Huckabee (Sr) 2nd Place in 4A State 200m – 24.41, 8 pts awarded. State winner was Jasmine Franklin, Paris – 24.26; and 3rd place was Diamond Barrett, Royals – 24.54.
Jada White, Dekhota Sipho, Llyria Swing, Alaya Huckabee – 4th in Class 4A 4×400 – 3:56.09, earned 8 points. The top 3 performers in order were Canyon – 3:52.06; Huffman Hargrave – 3:55.335; and Iowa Colony – 3:55.358.
Also qualifying and competing at the 4A State Track Meet for KHS …
Eniyah Birdlow 7th place – Shot Put: 37.5.75 (Winning Toss – Carlie Weiser, Giddings: 48-0.75)
All-Class results can be found at UIL State Track and Field and Meet 2023.
At the earlier regional meet in Commerce …
Dekhota Sipho placed 5th in the 100m Dash.
Alaya Huckabee placed 2nd in the 200m Dash (24.36)
Jada White placed 6th in the 400m Dash
4X400 Relay placed 1st (3:57.71)