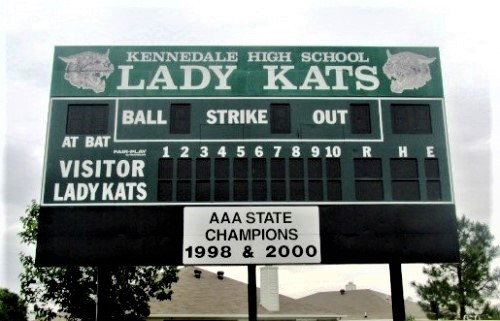 As it was said before the playoffs can be brutal. Each series in the playoffs is a termination point, one team moves on while the season ends for the other.
For the Kennedale Lady Kats, their season ended in two games with the Aubrey Chaparrals in the Area round of the UIL State High School Softball Playoffs last week.
Kennedale finished the year at 17-12-1, second in District 10/4A, a Region II/4A Bi-District Champion, and an Area Qualifier.
So far, Aubrey at (28-6) has demonstrated why the team is rated #2 (MaxPreps) in Class 4A. Excellent pitching along with strong bats are a major reason for their success. Aubrey has had 15 shutouts this season including the 10-0 and 16-0 wins over Kennedale in the playoffs.
The Chaparrals continue the tournament and will play a surprise region quarterfinalist, the Venus Lady Bulldogs. Venus (10-9) was the 3rd seed from District 10/4A and finished just behind Kennedale in the district standings.
The 2023 team exemplified the Lady Kat softball program …
Kennedale has made the state playoffs for 29 straight years dating back to 1994, putting the Kats among the top teams in the state in all classifications according to TexPrep Softball. Note: there were no playoffs in the spring of 2020 due to Covid.
Only two teams in the state have a longer streak – 5A Elgin and 6A Waco Midway each with at least 30.
Along with Kennedale at 29 straight wins were 3A Coahoma, 6A Houston Bellaire, 6A Houston Lamar, and 4A Waco Robinson.
The Kennedale program dates back to 1983 and quickly established a consistent winning program that includes two state titles from 1998 and 2000 along with a state runner-up title in 2003 with multiple regional appearances over the years.
This year's version of Kennedale Lady Kat Softball …
Listed on the roster for the Kennedale Lady Kats 2023 were Ashley Riley, Kaylyn Riley, Brooklyn Watts, Kayla Williamson, Kyleigh Johnson, Shaylie Sheffield, Elli Zamora, Lexi Zamora, Jessie Willingham, Cadence Verona, Ella Loker, Lola Vannest, Riley Goff, Kaydee Mantell, Isabel Martinez, MacKenzie Wirkler and Thi Pho.
STAFF – Head Coach Phillip Irby, Assistant Coach Allison Mantell, Assistant Coach Gary Burkham.