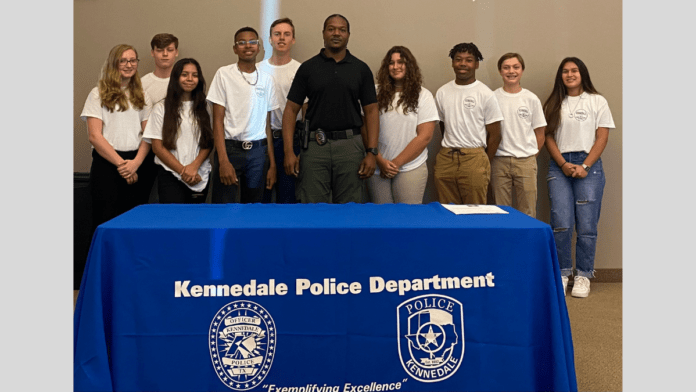 By Meredith Rose
This month, nine students from Fellowship Academy in Kennedale, TX, participated in the Kennedale Youth Police Academy (KYPA), a two-week program run by the Kennedale Police Department that introduces students to law enforcement, criminal justice and public service. 
"The academy seeks to build life skills such as confidence, leadership, collaboration and problem solving skills, and to bridge the gap between law enforcement and society," said KYPA Director Officer Delvin Starling. "We want there to be transparency in the criminal justice system so that students who take part in the academy can see that we are here to serve the community rather than just enforce the laws."
Students met from June 7-16 to train with officers from various law enforcement fields. They saw officer demonstrations and participated in hands-on lessons in traffic stops, police dog (also known as K-9) handling, fingerprint lifting, firearm safety and building clearing.
The program accepted a total of 18 students, nine of whom were Fellowship students ranging from freshman to junior year. Three Fellowship students received awards upon graduating from the academy: Sophomore Hannah McDaniel and freshman Haden Tinonga were named Top Shot; and sophomore Tristin Cruz was named Distinguished Cadet.
Several other Fellowship students were chosen for leadership roles to assist Starling during their time in KYPA. These students were Ryan Kneebone, Isaac Milne, and Charlton Stiggers.
While graduating from KYPA does not qualify students as certified officers, the program does provide valuable insight and exposure for students who are interested in pursuing further training and committing to this vocation in the future. Hannah McDaniel was drawn to the program for this reason.
"I wanted to participate in KYPA because I am interested in becoming an attorney who prosecutes criminals," she said. "I love shows like CSI and Criminal Minds, and I wanted to learn about the job of a police officer."
Hannah's mother, Brandi McDaniel, said, "Listening to Hannah retell the events of each day has been a joy. Her excitement is contagious. She is gaining experience and understanding that will be valuable to her as she pursues a law degree and prepares for her future career. I am thankful for the opportunity for her to explore this career path in a highly engaging, hands-on format."
Another student, Ryan Kneebone, said of his time in the program, "The most interesting thing I learned about was the K-9 and how it actually conducted its job. It was cool to see how well trained the dog was and how well he listened."
For Cindy Kneebone, Ryan's mother, there were several reasons to be excited about this opportunity for her son.
"He gained a different perspective on society and civil servants and is able to better understand and speak on current social issues," she said. "The program is also great exposure for potential career choices."
Through partnership with the Kennedale Police Department, Fellowship will continue to make KYPA applications readily available to interested students in the years to come.
"Part of our mission at Fellowship Academy is to help students realize their full potential through discovery of their God-given gifts, talents and purpose. KYPA provided our students with an excellent opportunity to do just that," said Dr. Marilyn Dardenne, head of school. "Students who attend Fellowship can expect opportunities, both through our school and through partnerships like this one, to explore their desired career path."
To learn more about Fellowship Academy or schedule a tour, visit fellowship-academy.org or call 817-483-2400.