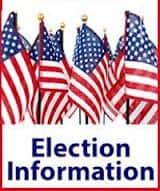 As of early this morning, it looked as if the current incumbents were safe this year in running for elections in May. however, over the final 8 hours and as the 5 o'clock hour came, two Kennedale City Council incumbents drew challengers.

As confirmed by Raeanne Byington, Kennedale City Secretary, the following is the final listing of candidates for Kennedale City Council. Note: there were three positions set of elections this year. Each position is for two years.

For Kennedale City Council – Rockie Gilley (Place 1) has drawn an opponent, Chris Evans; Kenneth Michels (Place 3) is unopposed, and James Connor (Place 5) has an opponent, Jeff Nevarez.

For the KISD Board of Trustees – Darryl Owens (Place 6) has filed, and Felicia Moody (Place 7) has filed. Note, this information has not been officially confirmed but KISD has not changed its posting of candidates who have filed for election.
ELECTION CALENDAR …
Saturday, May 6, 2023, is election day with early voting to begin on April 24, 2023. If you are not a registered voter, the deadline to register for this election is Thursday, April 6, 2023.
CANDIDATE INFORMATION REQUESTED …
Kennedale News encourages each of the candidates to submit candidate statements for publishing in the Kennedale News. Those statements may be submitted via [email protected]. It also encourages those candidates who have not drawn an opponent to also submit a statement. Each submission will be published regardless of the opponent's non-submission. All submissions will be published the weekend of April 21, 2023, and just before early voting begins on April 24, 2023.