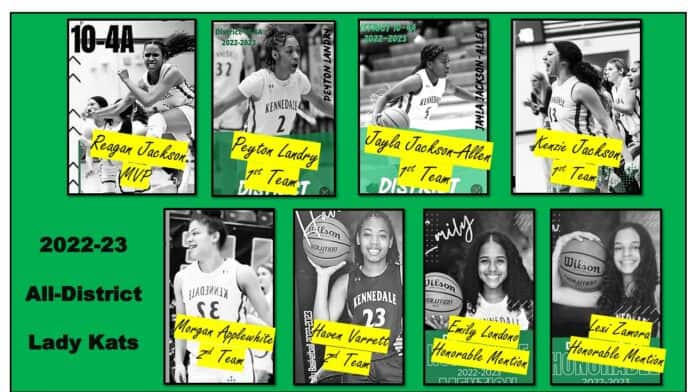 2022-23 District 10/4A All-District honors went to Reagan Jackson (Sr) for District Most Valuable Player (MVP). Peyton Landry (Sr) earned 1st Team along with Jayla Jackson-Allen (Jr) and Kenzie Jackson (So). Second-team honors were made by Morgan Applewhite (Jr), and Haven Varrett (Jr). Honorable Mention went to Emily Londono (Sr) and Lexi Zamora (Fr) for their contributions this year.
Two with all-star class …
Two Lady Kats have made all-district for four straight years. Reagan Jackson was Co-MVP and Peyton Landry was 1st Team as freshmen players in the 2019-20 season. Jackson has been named MVP each year since. Landry has also been named All-District Defensive Player of the Year along the way, besides first-team honors.
The Lady Kats finish their 2022-23 campaign with an overall record of 18-12, a district record of 10-2, and were district runner-up. The Kats made the state playoffs for the 23rd year, going two deep this time. MaxPreps currently ranks the Lady Kats #26 statewide in Class 4A out of 205 teams.
Final game of the 2022-23 season …
In their final game of the season, the Panther Creek Panthers of Frisco defeated Kennedale 54-46. This was in the Area Round of the UIL playoffs.
The Lady Kats (18-12, 9-2) spotted the Panthers (24-13, 9-3) nine points in the first quarter, 15-6, and never really recovered. The Kats made a strong comeback effort in Q2 cutting the lead to one point at 26-25. However, Panther Creek regained control of the game in the third outscoring Kennedale 20-12, and went on to contain the Kats for the remainder of the game for their 8-point win.
Reagan Jackson (Sr) showed her MVP credentials, hitting 31 points in the game for Kennedale.
Final District 10/4A update …
#1 seed Godley (28-8, 11-1) made the region semi-finals (4th round), falling to Sunnyvale (32-5, 12-0). Sunnyvale is now in the state final four.
#2 seed Kennedale (18-12, 9-2) advanced to the area finals (2nd round) losing to Panther Creek (24-13, 9-3).
#3 seed Alvarado (24-11, 9-3) made the region quarterfinals (3rd round) losing also to Panther Creek. Panther Creek fell to Dallas Pinkston in the region semi-finals (4th round).
4th seed Ferris (12-20, 6-6) fell in bi-district play (first round) FTW Dunbar (19-12, 12-0). Dunbar lost to Van Alstyne (22-11, 7-3) in the area finals. See Region 1&2 playoff results

here

.
UIL State Finals – San Antonio …
The state finals are scheduled for this weekend in San Antonio with the final four teams set for Friday and the final set for Saturday. In the semifinals, Glen Rose (31-9, 8-0) plays La Vega (36-5, 10-0) and Sunnyvale (32-5, 12-0) plays Boerne (35-1, 12-0). See the state final bracket for 4A here.
Note: In the final rankings on February 13, 2023, by the Texas Association of Basketball Coaches (TABC) prior to the playoffs, Glen Rose was ranked #2 followed by Boerne and La Vega. Sunnyvale came in at #8.