The Kennedale Lady Kats (9-10, 2-0) stopped a four-game bleed with back-to-back wins that couldn't have come at a better time.
The Kats had added two losses to their record two weeks ago with a 65-57 loss to 4A La Vega (17-3) followed by an 87-49 loss to 6A Mansfield Lake Ridge (15-4) to fall to a 7-10 record.
While the Lake Ridge game was out of reach, the La Vega match was a real battle. The visiting Lady Pirates took an early lead at 6-2 before Kennedale Lady Kat Reagan Jackson popped in a 3-pointer from the far corner to signal that this was going to be a fight. At the end of Q1, La Vega was on top 13-9 but the Kats, on a run, took a 16-15 lead early in Q2. The halftime score of 31-29 was in favor of La Vega. As it turned out, Q3 was a decider as La Vega outscored the Kennedale 22-11. Even though Kennedale tried to return the favor in Q4, it just wasn't enough.
Better holidays …
Kennedale did significantly brighten their holiday mood when they opened district play and outscored Ferris and Venus by a combined total of 166-63.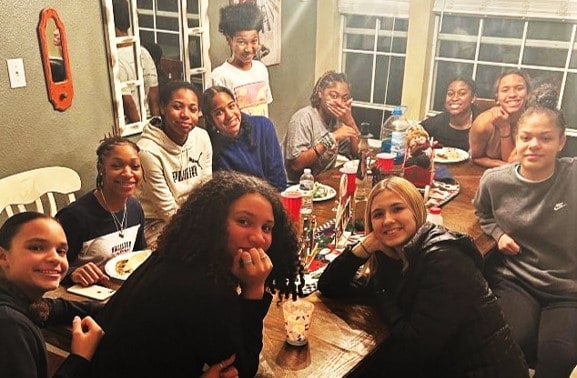 The wins along with setting a new school individual scoring record has to be a shot in the arm for the Lady Kats as they prepare for what looks to be a very bruising District 10/4A struggle.
First the record breaker …
KHS senior Reagan Jackson (Sr) is intent on capping her career by breaking records. She has two so far this season. Two weeks ago, she became the All-Time Leading Scorer in the KHS Girls' Basketball program with a total of 2,539 points. The University of Cincinnati commit followed that performance by setting a new school record for the Most Points Scored – Single Game when she posted 48 in the Venus game.
Kats hope to go 3-0 Tuesday …
Tuesday evening Kennedale will try to establish themselves as an early District 10/4A leader when they take on Hillsboro (11-5, 0-1). Currently, the top three teams are Godley, Alvarado, and Kennedale, each with 2-0 district records.
Recent game update …
Ferris (W) Tuesday, Dec 13, 65-43
The visiting Ferris Lady Yellowjackets did take an early lead in the game at 10-9 in Q1 but it was all Kennedale afterward. The Lady Kats outscored the Jackets 18-5 to take a commanding 27–15 lead at the end of Q2. Ferris tried to make a game of it with 28 points in the second half but the Kennedale pushed in 38 more points and it was game over.
Ferris is now 2-13 and 0-2 in district play.
Reagan Jackson (Sr) led with 34 points followed by Jayla Allen Jackson(Jr) with 25.
TEAM STATS (Kennedale/Ferris): Rebounds 31/33; Assists 8/4; Steals 12/5; Blocks 2/1; FG% 35/36; 3Pt% 39/25; FT% 82/38.
Venus (W) Friday, Dec 16, 101-20
The Lady Bulldogs never had a chance in this game as the visiting Kennedale Kats came in charging and never let up. Senior Reagan Jackson (Sr) led all scorers with 48 points followed by Jayla Allen Jackson(Jr)with 25 points. Note: Jayla joined the 1000-point club (career points) during the Sunnyvale game on November 15, 2022.
Venus is 4-12 overall and 0-2 in district play for the year.
There are no stats available yet for this game.
Tuesday is a 2-fer …
It is a double-header Tuesday night as Kennedale Basketball host the Hillsboro Eagles. The Kennedale Lady Kat varsity will play at 6 pm followed by the Wildcat game at 7:30 pm.
Both games will be in the Wildcat Gym at Kennedale High School, 901 Wildcat Way, Kennedale, TX 76060.