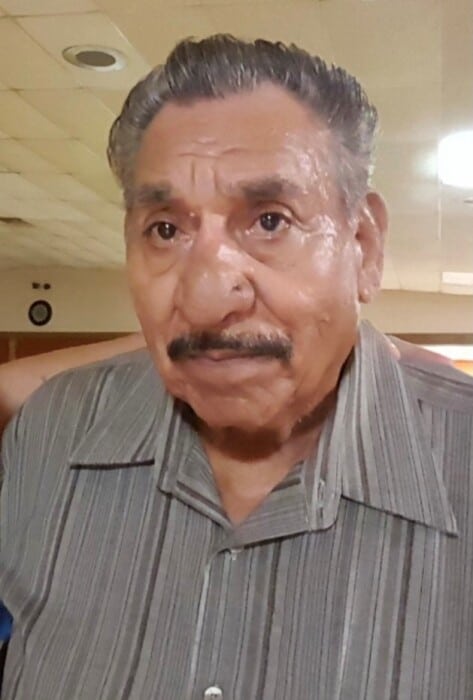 Domingo Valerio Jimenez 82, of Kennedale, Texas went to be with Jesus on Tuesday October 19, 2021. He was born on October 7, 1939 in Gonzales County.
Domingo was married to Dora Jimenez for 62 years. He was a member of St. Jude Catholic Church in Mansfield, TX. Domingo loved to watch football, go the horse races, play the lotto, work on his vehicles, attend church and most of all being with his family.
Domingo is survived by his wife, Dora Jimenez (Pompa); his children Sylvia Lee Pizana (Jimenez), Teresa Jimenez, Dianna Gonzales Jimenez and his two son-in laws, Raul (J.R.) Pizana & Jesus "Junior" Gonzales. His grandchildren: Aaron Pizana & wife Stephine; Amanda, Miranda, Olivia, Adrian, Anthony, Raymond & Rene Garcia. His great-grands: Diego Ramirez, & Zoe Rae. His Sisters: Lydia Martinez (Jimenez), Selia Esther Juarez.(Jimenez). His brothers: Antonio Jimenez, Celso Jimenez, Jesse Jimenez and Bidal Jimenez Jr.
Proceeded in death: Parents Bidal Jimenez Sr. & Leonarda Jimenez (Valerio). His brothers & sister: Pedro Jimenez, Erasmo Jimenez, George Jimenez, Pascual Jimenez, Janie Ramirez (Jimenez).
https://www.emeraldhillsfuneralhome.com/obituary/Domingo-Jimenez