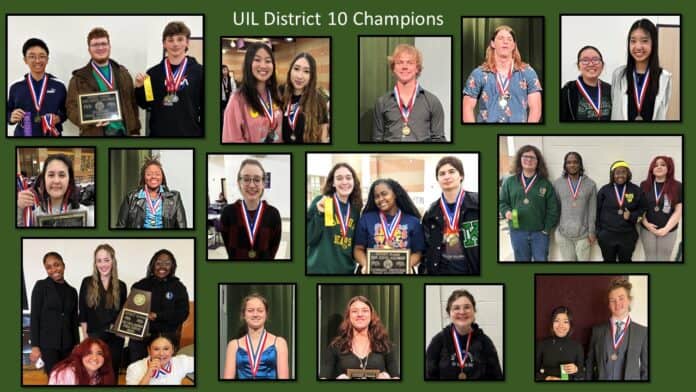 Over the past couple of weeks, students representing Kennedale High School competed with students from Hillsboro, Alvarado, Ferris, Godley, and Venus. These schools make up UIL District 10-4A.
Commanding win …
Students from Kennedale High School earned the District 10-4A Academic Championship by a 64-point margin. The Wildcats won 5 team titles and claimed 9 individual first-place wins, 8 second-place honors along with 6 third-place ribbons in eleven academic events. In at least another 9 academic events, KHS students placed second or third place.
At least 19 KHS students will advance to the regional contest. Four more are listed as region alternates.
The overall total point score for KHS was 406. Hillsboro came in second with 342 followed by Alvarado with 298 and Ferris at 245.
It was a strong showing by the students who had volunteered their time and minds to represent Kennedale High School in this annual contest.
6 titles in a row …
According to KHS records, the high school has earned the academic title each of the last six years. Overall KHS has claimed the championship eight of the last 9 years dating back to the year 2014. (Note: The 2019-20 school year event was canceled due to Covid).
Top Individual Performers …
Top performers were Elijah Davis with 5 medals or ribbons – 3 first, a 3rd, and a 5th; Branden Turner with 4 medals or ribbons – 2 first, a 2nd & a 5th; and William Green with 4 – 3 first and a 3rd.
KHS students placing at the district meet …
Science:
TEAM: 1st Place – Elijah Davis, Branden Turner, William Green, and Lugong No – REGION QUALIFIER.
Biology: 1st – Branden Turner REGION QUALIFIER; 3rd – Elijah Davis; 4th – Luong No
Chemistry: 1st – William Green REGION QUALIFIER; 2nd – Branden Turner REGION ALTERNATIVE; 5th Elijah Davis.
Physics: 1st – Elijah Davis REGION QUALIFIER; 5th Branden Turner
Social Studies:
TEAM: 1st Place – Rachel Rodriquez, William Green, Jamie White, and Pfeiffer Galloway REGION QUALIFIER
Journalism:
TEAM: 1st – Kennedale HS – REGION QUALIFIER
EDITORIAL: 1st – Tracy Tran REGION QUALIFIER; 4th Mai Le REGION ALTERNATE
HEADLINE WRITING: 1st – Maddox Wheeler REGION QUALIFIER; 2nd Linh Ngo REGION QUALIFIER
COPY EDITING: 2nd Emily Neff REGION QUALIFIER; 3rd Lihn Ngo REGION QUALIFIER
NEWS WRITING: 2nd Mai Le REGION QUALIFIER; 3rd Tracy Tran REGION QUALIFIER
FEATURE WRITING: 3rd – Sheba Serwanga REGION QUALIFIER
Literary Criticisms:
TEAM: 1st Place – Tanatswa Chireza, Kegan Clark, Scarlett Jackson REGION QUALIFIER
INDIVIDUAL: 1st Tanatswa Chireza; 2nd Kegan Clark; 4th Scarlett Jackson
MATHEMATICS: 1st – Elijah Davis REGION QUALIFIER
NUMBER SENSE: 3rd – Pfeiffer Galloway REGION QUALIFIER; 6th – Aiden Poe REGION ALTERNATE
SPELLING: 1st – Gracie Pettitt REGION QUALIFIER
Current Issues and Events:
TEAM: 3rd Place – William Green, Ruby Madero Marquez, Allowyne Madison, and Robert Johnson
INDIVIDUAL: 5th – William Green REGION ALTERNATE
FEATURE WRITING: 3rd – Sheba Serwanga
READY WRITING: 6th – Valeria Castro
PROSE INTERPRETATION: 1st – Mitchell McBroom REGION QUALIFIER, 5th – Alexandria Aguilar REGION ALTERNATE
SPEECH TEAM: 4th OVERALL
LINCOLN DOUGLAS DEBATE: 2nd – Ayzoria Jimmerson REGION QUALIFIER; 4th – Tinley Wease REGION ALTERNATE; 5th – Kaleia Ireland REGION ALTERNATE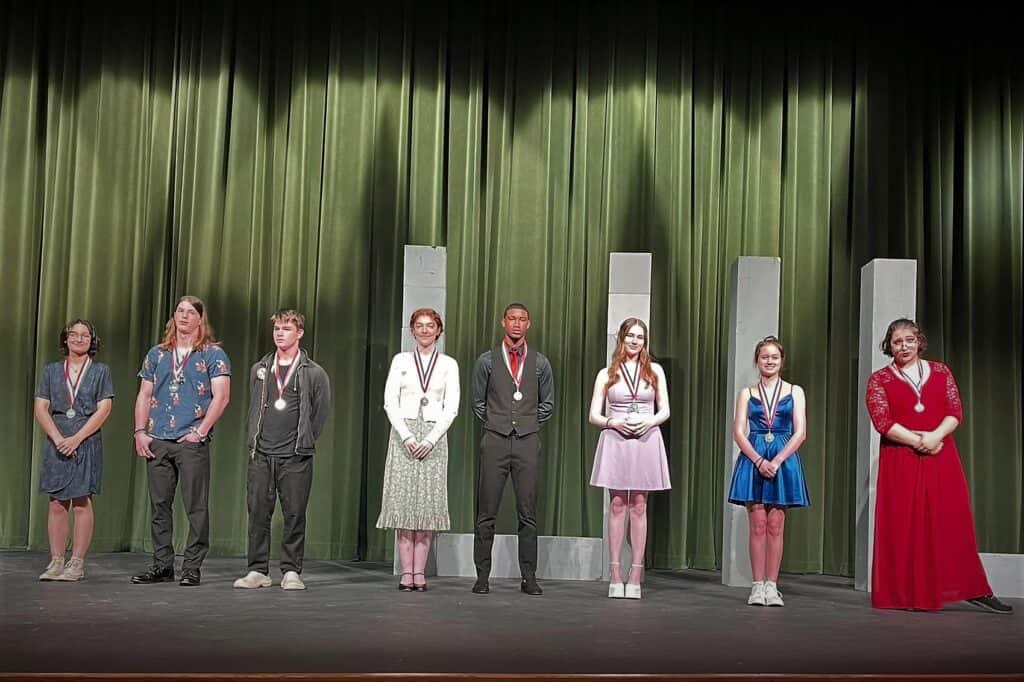 Another UIL District contest with honors …
One Act Play: 5th -Kennedale
TOP PERFORMER – Annabell Dixon
ALL-STAR CAST – Silas Marvine
HONORABLE MENTION – Briana Vinson
HONORABLE MENTION – Zach Zare
TECH AWARD – Allowyne Madison