It was a hectic schedule just before the Turkey Day break. Each of the three games had its own challenges but similar in that each had the Cats fighting for control of the game in the first half before establishing the lead in the second and sealing the win.
On Saturday it was a three-point win over 5A Granbury. Monday evening brought a six-point win over 5A Frisco Lebannon. Tuesday night came and went with the Kennedale faithful savoring a satisfying nine-point spread over 4A Celina.
Early dfwVarsity forecast – Cats 4th in area, 1st in district
dfwVarsity has picked Kennedale to win District 10/4A followed by Godley, and Hillsboro. Life, Alvarado, Ferris, and Venus come in 4-7.
In pre-season area rankings, dfwVarsity has Kennedale in the 4th slot for Class 4A/other. In at first, was Arlington Grace Prep then Brock, Grapevine, followed by Kennedale, Peaster, Glen Rose, Lipan, Decatur, Fort Worth Christian, and in 10th place was FW Dunbar.
Saturday, November 18, Granbury@Kennedale(W) 54-52 …
Granbury at 2-0, had two wins against 5A Cleburne, 48-43, and 5A Joshua 63-35. The Cats did play Granbury last year for a win by a point, 56-55.
It was a close game all the way but the Cats frequently had to come from behind. In the 2nd quarter, it was the Pirates 30 and Kennedale 23 before tying. In the third, the Wildcats were down by nine at 34-25 However, in the 4th, it was Granbury having to fight back from a 45-38 deficit. The Cats held on for the win 54-52.
Leading the scoring for the Wildcats were Tristan Lewis (Jr) and Breylan Harris (Sr) both with 13 points followed by Austin Pickett (Sr) who added 10.
Team Stats (Kennedale/Granbury) – Rebounds 25/28, Assists 9/12, Steals 8/7, Blocks 0/1, FG% 45/35, 3PT% 14/43, FT% 70/83.
Monday, November 21, Kennedale(W)@Lebanon Trail 64-58 …
The Frisco Lebanon Trail Blazers (3-5) came into the game with Kennedale with wins over 5A Frisco Lone Star, 5A Burleson, and Fort Worth Nolan Catholic. Losses have come against 5A Lucas Lovejoy, 6A Houston King and 2A LaRue LaPoynor.
Lebanon established an early lead at 16-10 which carried over into the 2nd quarter before Kennedale began to take control leading 31-27 and 46 -37
TEAM STATS: (Kennedale/ Lebanon Trail – Rebounds 41/30, assists 16/9, steals 16/8, Blocks 6/2, FG% 39/41, 3PT% 0/33, FT% 71/55.
Tuesday, November 22 Celina@Kennedale(W) 81-72 …
Celina and the Wildcats met on the Cats homecourt in an early clash of unbeaten with Celina sporting a 3-0 record and Kennedale at 4-0.
Celina arrived with wins over Irving North Hills Prep, 4A Krum, and last week over 4A Ferris.
Kennedale was down 22-13 after the first quarter but led 56-50 going into the 4th. In the final quarter, it was Kennedale winning by nine 81-72. Wildcat Landon Brooks (Jr) led the team with 28 points followed by Pablo Agosto-Vega (Jr) with 20.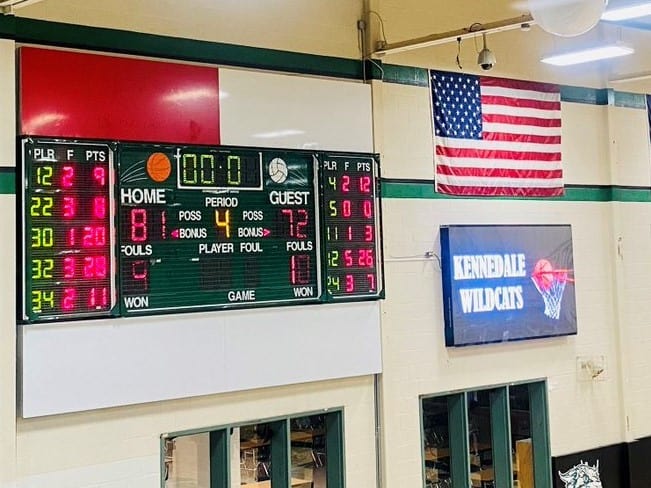 After Thanksgiving
Next up, Kennedale will travel to Mabank, Tuesday, November 29, to take on the 4A Mabank Panthers (2-2). That weekend the Cats will play in the first of two consecutive tournaments. The first is the Sanger Tournament, Dec 1-3 followed by the Lago Vista Tournament, Dec 8-10.
The first district game will not come until December 20 at home against Hillsboro with the game set for 7:30 pm. JV will play at 5:00 and Freshmen at 6:15.