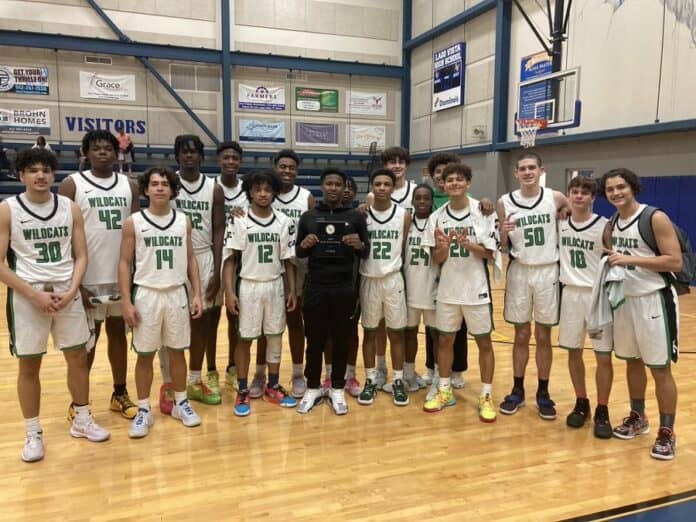 The Cats suffered their second loss of the season but were able to take revenge by beating the same team in the championship round of the Lago Vista HS North Shore Tournament this past weekend.
Lago Vista ISD is located on a bend of the Colorado River just northwest of Austin, Texas. This was a first-time tournament for the Kennedale and proved to be a good one.
During the three-day tournament, Kennedale played TAPPS 5A Austin Regents, 4A Salado, TAPPS Austin St Stephens, and 4A Sweeny.
Kennedale's first game was a win over Sweeny on Thursday evening by a score of 52-37. Friday morning the Wildcats lost to Austin Regents (10-4) by a score of 68-60. The Cats bounced back that afternoon with a 60-36 defeat of Salado 60-36.
On Saturday, the Cats earned a place in the championship game with a win over TAPPS Austin St Stephens 69-43 in a noontime game. In that game, Landon Brooks (Jr) led the team with 25 points while Pablo Agosto-Vega (Jr) added another 16.
The North Shore Championship game pitted the Wildcats against Regents once again. Coming in as the underdog, the Wildcats had something to prove and took control of the game in the second half to win 56-44.
Pablo Agosto-Vega earned the North Shore Tourney MVP. Jacob Lovings (Fr) made the All-Tournament Team. Other players recognized by the Kennedale staff for their play and leadership were Landon Brooks (Jr), Noah Biles (Jr), and Breylen Harris (Sr).
Area challenges coming up next week …
The Wildcats will travel to play Decatur (7-5) next Tuesday followed by a Friday night game at home against China Springs (9-4).