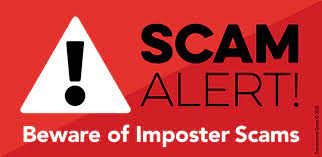 There has been a huge uptick in scammers who are attaching themselves to Facebook post and advertising that you will be able to see a live broadcast of your team for $1 or even free.

Don't Believe it and Don't Click it!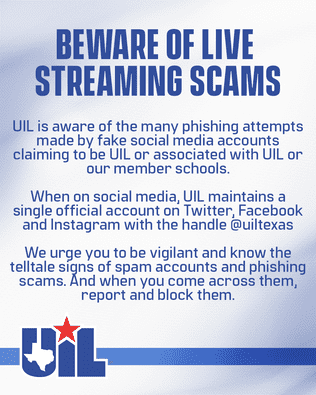 Most UIL events are not live broadcasts. It is done only if a school has agreed to participate and you will know about it in advance.

Recently one such scam appeared in the response section of a KISD Facebook post about an upcoming playoff basketball game. KISD did not post that response or in any way approve of it. It actually led to a site that was in "Florida" and was aimed at getting individuals to sign-up for an online exercise/weight loss program for a mere $56.00 a month annually. They offer no way to cancel without logging in again which results in additional charges. This is just an example of the various scams used to get your money/personal information.
Nationwide scam …

UIL of Texas has become aware of this type of scam and has put out a warning for the public in Texas.

Currently, the KHS basketball program has come to an end for this season but soccer is in full swing with softball, baseball, and track to begin shortly. With the prevalence of videos of everything, there may be a mistaken belief that any and all sport events are live broadcasts and they are not.

Don't become a victim.