Information and photos in this article provided by the KHS Outdoor Education Club
A group of 19 archers who are part of the Kennedale High School Archery program, elected to participate in the Kaufman Invitational this past Saturday. Three placed in the top 12.
Megan Tidwell led all KHS female archers with a score of 279, finishing 7th overall in the High School Female Division out of 167 archers.
Jacob Golden finished in 11th place and Stevie Cerda finished in 12th place overall in the High School Male Division. Both had a score of 279 but Jacob had 14 bullseyes while Stevie had 13. There were 203 archers competing in the male division.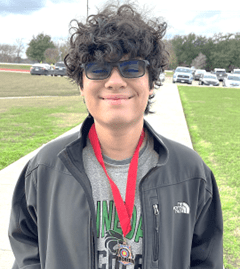 Stevie Cerda also finished in 3rd place at the Regan Knight Archery Tournament held last month. At that tournament, he shot his personal best of 282.
As a team, Kennedale Archers finished 7 out of 19 schools in their division with an overall score of 3,140. The top score was 3,332 set by Prosper High School.
Other participating KHS student archers were: Adrian Leos (Jr), Aaron Bustos (Fr), Emma Holmes (Sr), Peyton White (Fr), Toby Wristen (Jr), Mya Phan (Jr), Anthony Williams (Fr), Madie Renz (Jr), Kelton MacKey (So), Alyssa Reynolds-Torrez (So), Elijah Davis (Jr), Emma Easley (Fr), Teighan Gilland (So), Daphanie Constable (Sr), Jackson Sellers (So), and Zeke Saxon (So).
Overall there are approximately 56 students participating in the program this year.
More about KHS Archery …
This year KHS has a large contingent of kids who are either first or second-year archers. KHS Coach Wilcox says that "archery is 90% mental and 10% physical so it takes time and dedication to achieve at the highest levels."
The first mandatory tournament for eligible KHS archers eligible will be the Texas Two-Step. This one is co-hosted by Kennedale and Arlington ISD and is set for January 19-22, 2023. Currently, the Texas Two-Step tournament has 1,250 kids from two states registered.
January is also the "State Qualifying Tournament" month. Wilcox says, "It will be our first true measuring stick for where we are as a team."
Kennedale started teaching archery in 2013 but its first competition team came in 2016 and finished #7 in the Texas State Archery Championships that year. Last year the Wildcat Archers finished in 4th place. This can be called one of those "rebuilding years" for the Wildcats but Kennedale has become one of the most consistent performers in the state. They may surprise.
Follow the KHS Outdoor Program on their Facebook page.