UPDATE: This article incorrectly reported that Head Coach Paul Trantham was retiring. That report has been removed from the article. (4/24/23).
It was last-ending heroics that preserved the Kennedale Wildcats' second-place standing Tuesday afternoon in Waxahachie as Kennedale played Life in the first game of a two-game series. The series marks the end of the district season for both teams and will determine the #2 and #3 seed for the upcoming UIL State High School Baseball tournament.
Both teams were tied in District 10/4A standing at 6-2 with Godley in at first at 8-1. With the win Tuesday Kennedale is 7-2, 15-7-2 and Life is 6-3, 15-11. The series returns to Paul Trantham Field at Kennedale High School for the final game Friday night. The first pitch is set for 7 pm. (Godley defeated Venus as expected, 17-0 moving to 9-1, 24-3-1 with one final game against the last place Venus Bulldogs, 0-9, 1-17.)
It was a determined Mustang team playing on their home turf that gave Kennedale its best effort and for six innings it worked fairly well. Keeping Kenndale off the bases was their goal and the Life's pitcher Mitch Mamola went six innings, allowed five hits and two runs but struck out eight Kennedale batters. As a result, Kennedale didn't get a run until the fifth when the Cats put two across after Life had already scored three times.
It begins with the fifth …
In the fifth inning, the scoring started when Wildcat Kelsen Martin hit a single to left field with one out for the Cats. Josh Saenz followed with a single to move Martin to second. Scout Steinhilber then scored Martin with a double. Nevyn Johnson hit a sacrifice fly out to the right field that allowed Saenz to tag up at third and score. The third out followed but the Cats were finally on the scoreboard with two innings remaining. In the bottom of the inning, Kennedale pitcher Ryan Dembroski faced four Life batters and allowed a single but no runs. The score was 3-2 Life Waxahachie.
In the top of the sixth, Kennedale went quickly down in four whiled managing only a single to no avail. In the bottom of the inning, Ryan Dembroski again facing only four batters, allowed only one unproductive single. Kennedale remained one run behind at 3-2.
Drama in the 7th …
Kennedale faced a new pitcher, Jaidan Jammer, who walked Kelsen Martin. Facing his second batter, Josh Saenz, Jammer got his first two strikeouts for the game with Martin still on first.
Kennedale's next batter, Scout Steinhilber, who doesn't seem to know how to hit a single, hit a double moving the tying run to third. What happens next was right out of Jet Teague/Paul Trantham's small-ball playbook. Nevyn Johnson at the plate fouled the first pitch and then on a strike two swinging, K Martin stole home for the tying run while S Steinhilber stole third to set up the go-ahead run. Johnson, still at bat, hit a couple more fouls before connecting on a sacrifice fly to center. It was enough to allow Steinhilber to score. R Dembroski followed with a single but Jammer got his second strikeout to end the inning. But the damage was done as Kennedale took the lead for the first time at 4-3.
The Wildcats, still having to close the deal in the bottom of the 7th, put in as their closer Nevyn Johnson. The result was perfection. It was three up and three down on a ground out, fly out, and a strikeout.
This one was in the books, Kennedale 4 – Life Waxahachie 3.
For the game, Ryan Dembroski got the win for the Cats facing 26 batters throwing 92 pitches with 60 strikes, giving up 3 runs on 8 hits while striking out 5. Nevyn Johnson, as the closer, pitched one inning in relief facing 3 batters pitching 8 strikes in 15 pitches, with no runs, no hits, and one strikeout. Scout Steinhilber had a 3-hit game with 2 doubles and 1 RBI. Nevyn Johnson had 2 RBIs. Also getting hits were Ryan Dembroski, J Cantu, Kelsen Martin, and Josh Saenz.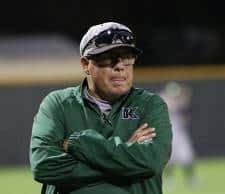 District and series closer Friday …
Kennedale remains #2 at 7-2, 15-7-2 with Life one game behind in 3rd at 6-3, 15-11. The backend of the 2-game series will be played Friday evening back home on the Paul Trantham Field at Kennedale High School. Weather permitting, the first pitch will be at 7 pm. It will Senior Night for the Wildcats. Saturday the Wildcats will play Azle High School in a tune-up for the upcoming playoffs.