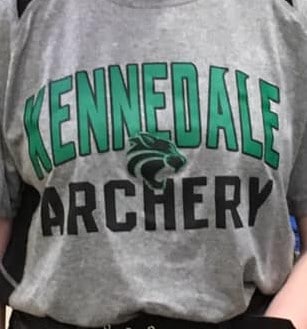 The following is from a post by Danny Wilcox, instructor in the Outdoor Education Program (OEP), marking the accomplishments of the students who participated this year on the school's archery team.
This year has been a great learning year for our very young archery team. The thing that is exciting about the future is that this group of returning 40 archers set a total of 14 KHS records during the course of the 2022-23 school year!
NASP Bullseye Records: The new KHS record holders whose names are going up on the board are as follows:
Stevie Cerda– 293 KHS Men's Record
Stevie Cerda– 293 KHS Sophomore Men's Record
Jacob Golden– 287 KHS Freshmen Men's Record
Jacob Golden– 285 KHS 2nd Place Fresmen Men's Record
Marie Jones– 284 KHS Freshmen Female Record
Marie Jones– 282 KHS 2nd Place Freshmen Female Record
150 Bullseyes– 2nd Place KHS All-Time Tournament Team Record
Team Scoring Record– 3,291 (In NASP Bullseye scoring, team scores are determined by the top 12 individual archers on the team, of which at least 4 scores must be from both the male and 4 from the female divisions, then the next 4 of either gender.)
KHS NEW IBO/3-D RECORD HOLDERS:
Stevie Cerda– 264 Sophomore Men's Record
Aaron Bustos– 257 3rd Place Freshmen Men's Record
Kari Sprinkle– 247 3rd place Freshmen Female Record
Megan Tidwell– 264 3rd place Junior Freshmen Female Record
Team Score – 1,559 is 3rd all-time in 3-D at KHS The 58 Bullseyes in the 3-D competition is also 3rd all-time at KHS for 3-D.(In IBO/3-D, the team score is comprised of the top 6 scores from team members, of which at least 2 must be male and female, then the next two highest scores of either gender.)
As the sport and popularity of archery continue to spread across not only Kennedale but the entire state, it becomes more and more imperative that our kids get the maximum amount of shooting time in that they can so we can compete with the teams who are getting in practice both during the school day and then outside the school day as well. We have to match their work ethic and passion to compete, and I have no doubt our kids will work as hard as they can in the time they do have to practice.
To win a state championship, the team bullseye total will need to be at or above 180 bullseyes (15/archer average for top 12 archers). We reached 150 this year in a "youth and learning year". That is very doable.
source: Kennedale High School Outdoor Education Club Facebook
(Kennedale News Note: The KHS competitive archery program is eight years old. KHS teams have qualified for the state tournament every year since always with a top 20 finish. The KHS Outdoor Education program began the year before in 2014 and includes a competitive bass fishing program.)