The following was provided by the City of Kennedale TownCenter Herald ….
The Kennedale Police Department has moved to a "Beat Policing Strategy" to help enhance our community policing efforts. Beat policing has been defined as the "dividing available police officers and resources across an agency's jurisdiction to ensure timely responses to calls for service and effective crime prevention by dispersing police across wide areas."
The KPD has now assigned officers to each part of the city each of who is responsible for getting to know that section of the city which includes its uniqueness, its quality of life issues as well as the area's criminal concerns.
New assignments for each area are: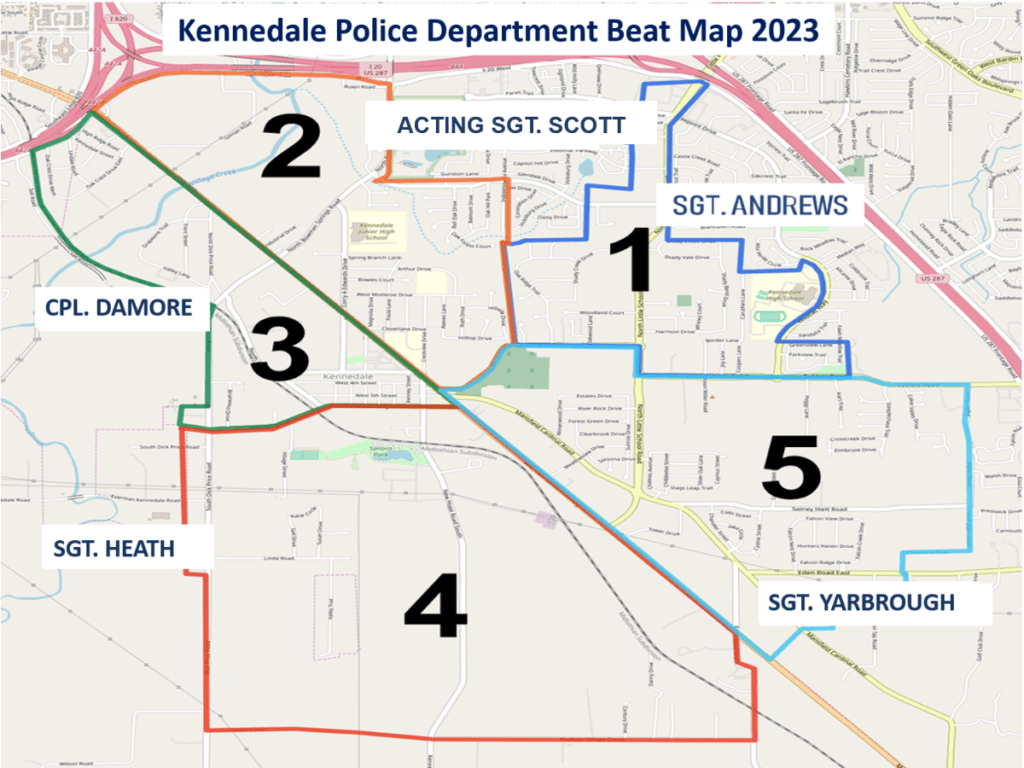 Beat 1: Sergeant Andrews & Officer Franklin
Beat 2: Acting Sergeant Scott & Officer Kjelson
Beat 3: Corporal Damore, Corporal Major, & Officer Miranda
Beat 4: Sergeant Heath & Corporal Burns
Beat 5: Sergeant Yarbrough & Officer Rawls
Five officers are promoted …
The Kennedale Police Department promoted five new supervisors on April 14th.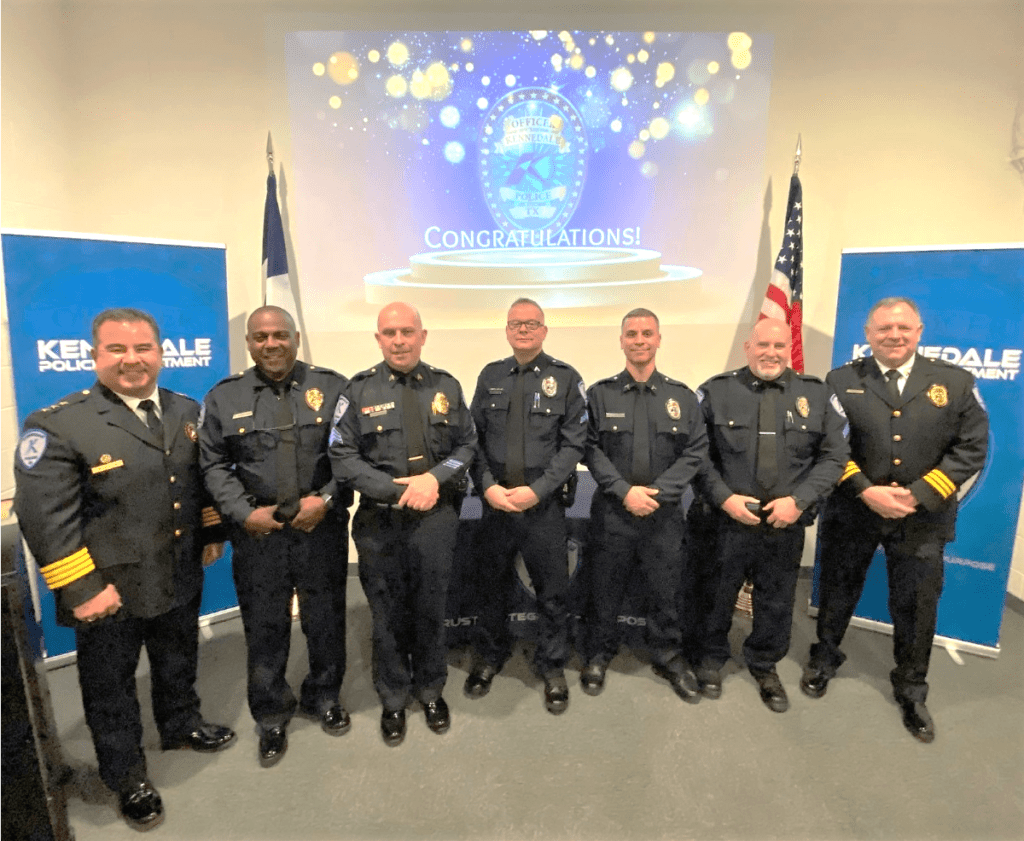 Corporal Ryan Heath to the rank of Sergeant
Corporal Robert Yarbrough to the rank of Sergeant
Officer Charles Burns to the rank of Corporal
Officer Joe Damore to the rank of Corporal
Officer Thomas Major to the rank of Corporal
March 2023 Police Activity Report …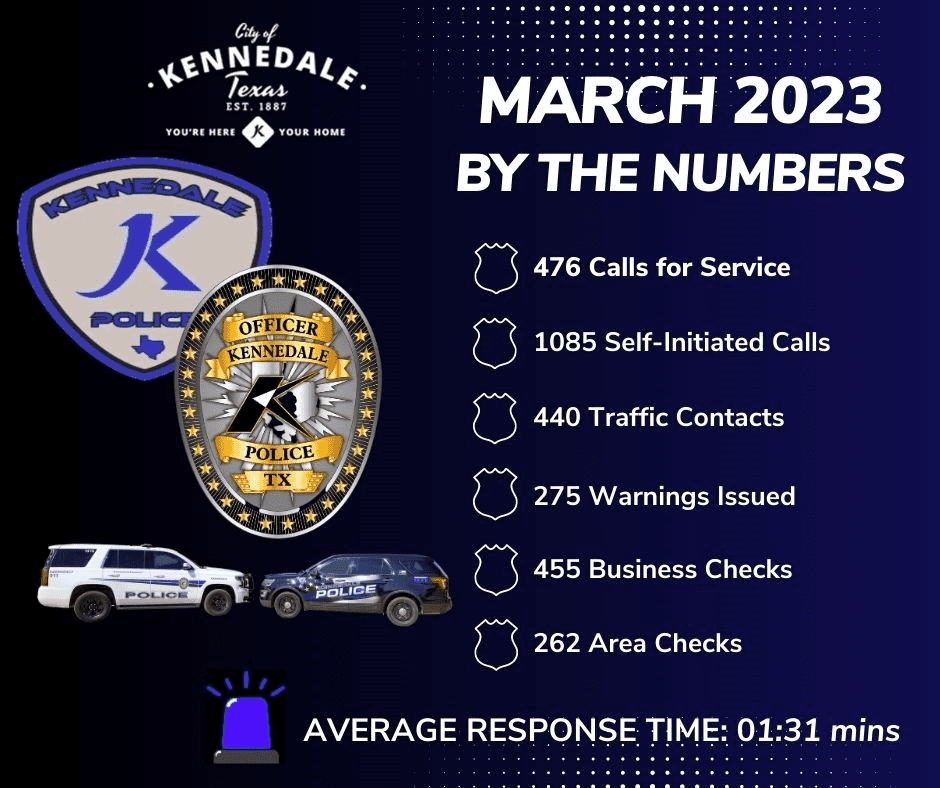 KFD honors 5 for specialized training received …
Kudos to Kennedale Fire Department personnel Steve Howery, Chris Lidster, Brandon Burch, Michael Pettijohn, and Grayson Kutsch on excellence in STEMI (heart attack with a completely blocked coronary artery) care. Each one also received a challenge coin. Saving lives one heart at a time!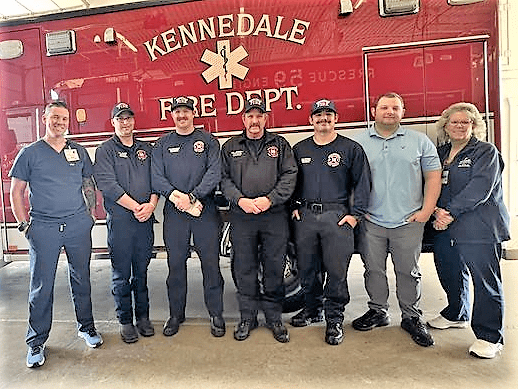 March 25 – April 25 Fire Department Calls …
The Kennedale Fire Department responded to a total of 128 calls for service.
6 fires
84 EMS responses
6 hazardous conditions
30 service calls & false alarms
Keep up with the City of Kennedale through the TownCenter Herald – subcribe for free