Early Days of Kennedale
In March 1887, Oliver S. Kennedy, John D. Hudson, and
C.B. Teague sought to take advantage of the new FW
& NO rail line by purchasing and platting the area. In
honor of Kennedy, the area was named Kennedale.
Not only did Kennedy, Hudson and Teague seek to
foster the economic development of this area, but
they also wanted to take advantage of the presence of
mineral wells to develop a health resort. Mineral
water from these wells was believed to have healing
properties that could cure such ailments as
rheumatism and dropsy. Rodgers Hotel, owned and
operated by Thomas Rodgers, provided travelers a
place to stay while visiting the mineral wells of
Kennedale.
Early commercial development in Kennedale was
based upon the agriculture, brickyard, and railroad
industries. Businesses lined Broadway Street in an
effort to provide easy access to the rail line. John D.
Hudson located his cotton gin on Broadway Street
near the rail line to provide convenient shipping
facilities for customers.
The Kennedale Brickworks, also owned by Hudson,
produced more than 30,000 bricks a day that were
shipped by the railroad to construction projects all
over the region. Hudson also owned a general store
that offered general merchandise to the residents of
Kennedale.
In 1908, a fire destroyed almost all of these buildings
in Kennedale. Despite this loss, the residents rebuilt
several of the structures that were lost, though the
desire to develop Kennedale into a resort had faded.
In 1932 during the Great Depression, Highway 34, now
Business Highway 287 was completed. This highway
connected Kennedale to Mansfield and Fort Worth
with a paved road. Developers of grocery stores and
filling stations sought to take advantage of this new
roadside, and moved in to Kennedale.                                                                              Folks wishing to leave the urban setting of Fort Worth were
given the opportunity to work in Fort Worth while still
being able to have a rural home life in Kennedale.
Kennedale offered large lots to these residents that
allowed for the construction of a new home with
ample space to have a vegetable garden and poultry
that could provide for the entire family.
Agriculture
Prior to the construction of the railroad, farming
operations dominated the landscape of present day
Kennedale. Crops included peaches, corn, and cotton.
Thomas Rodgers moved to the area in 1858 and
started a cotton farm that would become the largest
farm in the immediate area at 1,273 acres. John D
Hudson, one of the three men responsible for the
founding of Kennedale, opened a cotton gin in 1874 to
process these cotton crops. The train now provided a much                                         need way to help area farmer to transport their crops and                                    livestock to Fort Worth. It is noted in many historical accounts                                      that Thomas Rodgers was instrumental in forming the first                                           Fort Worth Farmers Market with all his produce he                                                      and other farmers sold there.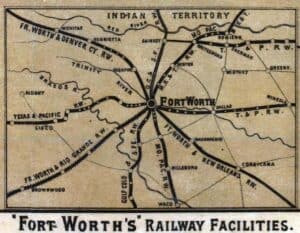 Railroad
In 1873, Captain B.B. Paddock published the Tarantula
Map of railroads in the Fort Worth Democrat to
illustrate his vision for Fort Worth and the surrounding
region to become a transportation hub. This plan had
nine railroads spanning from every direction and
connecting eventually in Fort Worth. When the first
line to Fort Worth was completed in July of 1876, the
Texas and Pacific Railroad became the area's first
railroad connection and it reached as far east as New
Orleans. This rail line changed Fort Worth from a
small cattle trail stop to the finishing point of the
cattle drives. This change spurred the region's
economic success and lead to the construction of the
remainder of the railroad lines shown on the Tarantula Map.
Tarantula Map
In 1885 the Fort Worth and New Orleans (FW & NO)
railroad was chartered to construct a rail line to
connect to Waxahachie. Completed in 1886, this 42-
mile connection was the eighth connection to enter
the region after 1876. This rail line passes through
present day Kennedale.
Section houses were constructed to provide quarters
for railroad maintenance workers responsible for a
section of this rail line, which ran from Brambleton,
near Forest Hill, to Bisbee, halfway to Mansfield.                                                            The Kennedale Train Depot was located between 5th                                                        & Broadway St. on the west side of North Road.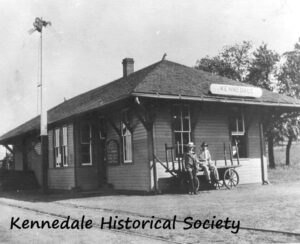 Part Three will continue tomorrow. Be sure not to miss it!
*Information for this story was compiled of history gathered by the Kennedale Historical Society and from The University of Texas at Arlington
MPA Cohort Program.