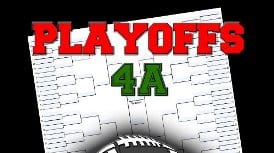 Kennedale will play the Brownwood Lions Friday evening in Glen Rose in the first round of the state UIL 4A football playoffs.
Brownwood hails from District 5/4A and with a 4-6 overall record finished in 4th place (2-3) behind Stephenville (10-0, 5-0), La Vega (7-3, 4-1), and Midlothian Heritage (7-3, 3-2). Following Brownwood and in 6th place was Alvarado (2-8, 1-4) and then Life Waxahachie (1-9, 0-5). Stephenville ranks #2 in MaxPreps 4A D1 rankings. Midlothian Heritage and La Vega hold the #8 and #9 slot in the rankings.
Brownwood's losses came against Midland Greenwood (5-4) by a score of 21-20, China Spring (10-0) by 57-21, 5A Abilene Wylie (4-6) 49-21, Midlothian Heritage 43-25, La Vega 49-33 and Stephenville 63-7.
Stats …
Average points per game: Brownwood 32.1 points – Kennedale 45.0.
Points against average: Brownwood 41.1 – Kennedale 4.3
Total yards per game: Brownwood 388.1 – Kennedale 295.3
Passing yards per game: Brownwood 110.3 – Kennedale 37.4
Rushing yards per game: Brownwood 277.8 – Kennedale 257.9
Field goals for the season: Brownwood 5/5- Kennedale 7/10
Extra-point kicks for the season: Brownwood 34/38 – Kennedale 58/60
The teams have had only one common opponent this season, Midlothian Heritage, both were losses. Brownwood lost to Heritage 43-25 in the 6th game of the season while Kennedale lost 27-7 in the second game of the season.
Players to watch – Brownwood …
QB Chance Jones (JR, 5'11", 175 lbs) – 86/181 for 1103 yards passing (12.8 avg), 16 TDs, 2 interceptions and 646 yards rushing on 128 carries (5.0 avg) and 4 TDs.
RB Konlyn Anderson (JR, 5'11', 200 lbs) – 1,788 yards on 292 carries (6.1 avg) and 19 TDs.
RB Jaylan Brown (5'11", 195 lbs) – 244 yards on 128 carries (6.3 ave) and 1 TD.
R Jason Jackson (JR, 6'1") – 36 catches for 590 yards and 9 TDs.
R Elias Huerta (SR, 6'1", 178 lbs) – 24 catches for 264 yards and 1 TD
R Thad Hinds – 10 catches for 132 yards and 3 TDs
Defensive player information is unavailable.
Prediction … it is going to be a game!
Making first-round predictions is usually a fairly simple task. With Brownwood playing in one of the stronger districts in 4A and Kennedale in one of the weaker ones, it is not quite as simple. How will the Wildcats match up with the Lions regardless of their individual win/loss records?
Brownwood has spent the season getting beat-up every other week. Is that gaining invaluable experience? Kennedale has spent the season polishing their game and winning their last 8 games by outscoring their opponents 422 to 14. Have they been challenged enough to fully develop their potential?
Kennedale should have this thanks to the defense.
The game will be played at Tiger Stadium, 1102 Stadium Dr, Glen Rose, TX 76034 this Friday evening with game time set for 7:30 pm. Tickets can be bought in advance. There are no cash sales at the gate. Follow this link to buy tickets – https://grisd.hometownticketing.com/embed/event/66…
See playoff bracket –
"2021 UIL Texas Football State Championships – 2021 Football Conference 4A D1 "
Interesting fact: Over the last 40 years, Kennedale has had only 8 losing seasons. The last was in 1999 (3-7). The next season was the start of Kennedale's current win streak – now at 22 straight winning seasons. Twenty-one of those has been under Athletic Director/Head Coach Richard Barrett.