It was already on the schedule and had nothing to do with the weather but the Cats' fans will miss the heavy rain passing through today. The unusual 11 am Saturday game will be played at Fort Worth's second-oldest stadium Farrington Field 1501 University Dr, Fort Worth, TX 76107.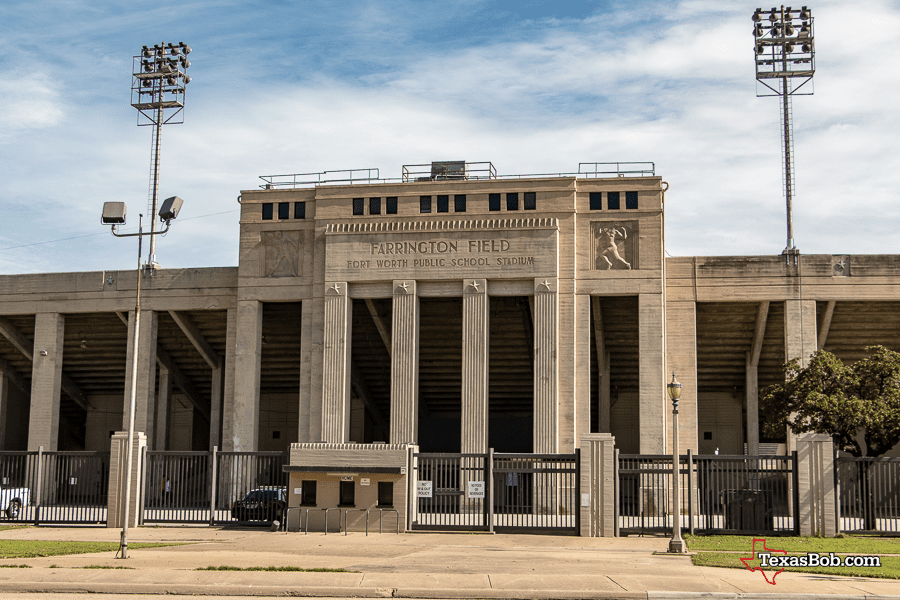 Many have passed by on the way to Museum District, the Fort Worth Zoo, or 7th Street and noticed its old-style stadium look. It has been home to the FWISD teams since 1939 and more recently to the Texas Wesleyan University Rams. Kennedale has played football several times there as well as participated in track and field events.
The open-air "classical style" stadium was built during the Great Depression with the help of WPA funds. It features a real grass field.
The weather forecast is a little better than today but still calls for cloudy skies with a chance of drizzles and/or a passing shower early. It will be breezy (NW 10-15 mph). The high later in the day will be 63 degrees.
About the game and it is important …
Kennedale (5-3, 4-1) is still in 2nd place in District 6/4A after losing to Lake Worth (5-0, 7-1) three weeks earlier. But the standings are knotted and could change dramatically over the course of the next games.
Dunbar at 4-1 is a direct challenge to Kennedale. Eastern Hills is close behind at 4-2 followed by Western Hills at 3-2. Dunbar and Eastern Hills present significant obstacles to Lake Worth and its pursuit of a perfect district season. Dunbar plays Lake Worth this Friday night and challenges Kennedale next week in a season finale. Lake Worth will finish its season next Friday with a game against Eastern Hills. A lot is still in play.
Western Hills (5-3, 3-2) …
The Cougars of Western Hills are coming off a 42-6 loss to Lake Worth last week. They have non-district wins against Maypearl (54-53) and FW Poly Tech (39-0) and have scored district wins against Carter-Riverside (50-30), Eastern Hills (30-28), and Castleberry (50 -36). Their other loss came against Dunbar 60-33.
Western Hills has scored 302 points this season so if given the chance they will tag the Kennedale defense. On the other hand, Kennedale has registered only 10 points against them in district play this season.
The Cougars were 6-5 overall and 5-2 in the district last year, losing to Kennedale and Benbrook. They did make the playoffs but were knocked out by Waco La Vega 65-6.
Kennedale will finish their regular season at home against the Dunbar Wildcats next Friday, November 4, 2022, at 7:30 pm. The Wildcats have not lost a game at home this season.
The UIL playoffs will begin the following week.