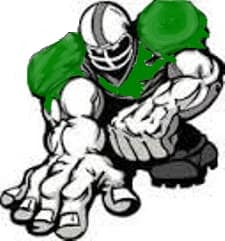 The Kennedale Wildcats (5-3, 4-1) take on the Western Hills Cougars (5-2, 3-2) today at Farrington Field with kick-off at 11:00 am. It will be cool and overcast with a chance of a passing shower. With the last 24 hours of soaking rains, the natural turf field will be of some concern.
The biggest concern this late in the season for a traditional powerhouse like Kennedale is that they win this game. Ironically with just two games remaining for Kennedale, the Wildcats have a solid chance of being a #2 seed. They also have an improved chance of winning the top seed outright. And yet, the Cats have the chance of being eliminated from the playoffs completely. All in just in the course of a two-game stretch. This is District 6/4A in 2022.
Five teams are in the mix for the four playoff places allotted in District 6/4A. The Dunbar Wildcats (5-4, 5-1) upset what seem to be the top seed the Lake Worth Bullfrogs (7-2, 5-1) last night 14-10. Waiting in the wings are the Highlanders of Eastern Hills (6-3, 4-2), the Cougars of Western Hills (5-3, 3-2), and the Wildcats of Kennedale 5-3, 4-1). Note: Kennedale faces off with Dunbar next week.
All these teams have their share of talent, quickness, and athletic ability. Most have beef, large chunks, to anchor their teams with tall players in the secondary. Kennedale may actually be the smallest across the board. The differences between the teams this year are paper thin this includes Kennedale.
When things are this close other things other than talent and size come into play. Luck is one of those things and for Kennedale, this is sometimes referred to as a bit of "Barrett magic". But really it has more to do with less tangible things like coaching, team discipline, player IQ as in "playing smart", and team unity and spirit. Tradition cannot be counted out.
Kennedale will be tested today and next week in all those categories. In the past, this is often where the Cats prevailed … maybe along with just a wee bit of Barrett magic.
You can see the current standing and play a little game of thrones yourself at MaxPreps. Remember ties breakers in the standings start with the results of head-to-head games. Eastern Hills' forfeiture to Kennedale counts as a win for Kennedale.