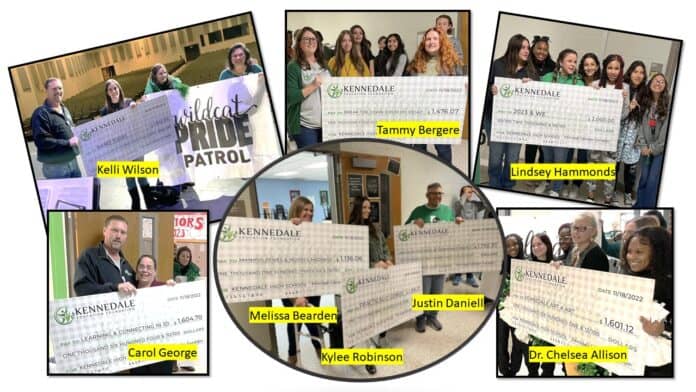 Congratulations to 10 KHS teachers who received grants from the Kennedale Education Foundation (KEF) this past month. The total amount received was $16,883.69 from the KEF.
The following are the teachers and the title of their grant submission.
· Dr. Chelsea Allison – "Kennedale Art K-Art" ($1601.12)
· Melissa Bearden – "Manipulatives and Models Madness" ($1136.06)
· Tammy Bergere – "Break the Chain (from My Desk)" ($1476.07)
· Justin Daniell – "Blown Away by Renewable Energy" ($1792.37)
· Carol George – "Learning and Connecting in 3-D" ($1604.70)
· Kristi Hullett – "Smoke Mirrors" ($2000.00)
· Lindsey Hammonds – "2023 and We" ($2000.00)
· Kylee Robinson – "Practical-ly Genius" ($1906.37)
· Matt Schenck – "Keyboards for Kennedale Choir Kids" ($1525.00)
· Kelli Wilson – "Band Today" ($1842.00)
The Kennedale Education Foundation is a 501(c)(3) non-profit tax-exempt philanthropic charitable organization that:
cultivates innovation and creative involvement to benefit Kennedale ISD students and staff to enhance the mission of KISD.
supports activities not funded by tax revenue.
solicits funding from private and corporate sources.
awards funding through a volunteer Board of Directors representing businesses, the community, and educational leaders.
Past and ongoing sponsors include numerous local individuals and families along with businesses including EECU, Stephens Painting Inc, Chick-fil-a, Ignite FBC Kennedale, Spirals Gym & Cheer, Andy's Frozen Custard, Lee Engineering, CG Cross Training, Walsh Gallegos Trevino Russo & Kyle Law Firm, Frost Bank, USI Insurance, Methodist Mansfield, Primrose Schools, Linebarger Attorneys at Law, and Wells Fargo.
Find out more about the Kennedale Education Foundation here.