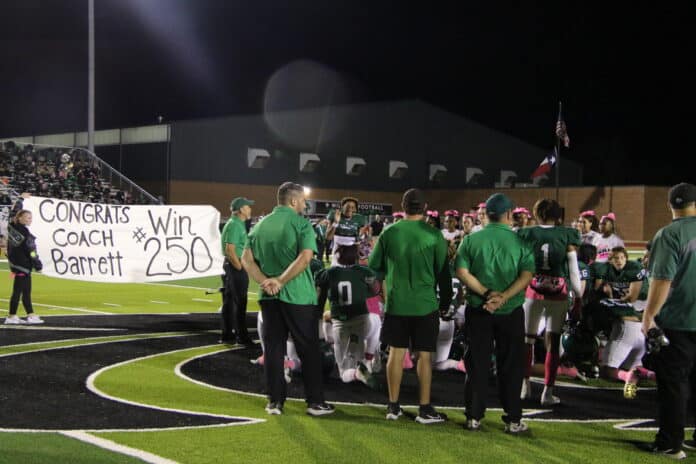 "It's never about you, it's never about me, but it is about us."
Coach Richard Barrett earned his 250th career win on October 6, 2023, with a 38-28 win over Lake Worth, an exciting moment for the entire Kennedale community.
Coach Barrett's journey in the world of high school football has been nothing short of remarkable. He has been a coach for 45 years, with 33 of those years being spent in Kennedale, where he has been a source of inspiration, guidance, and mentorship for his players and fellow coaches. Coach Barrett always knew that he wanted to be a coach but had no idea that such a long and impactful career would lie ahead of him.
Coach Barrett's remarkable 250 career wins are just one part of his legacy. Over the years, Coach Barrett has not only built winning teams but has also instilled valuable life lessons in his players. He wants his players to succeed in both athletics and academics and often reminds them that "We can't be perfect, but in the pursuit of perfection, we can attain excellence."
Coach Barrett officially has the tenth most wins out of all active coaches in Texas, but he emphasizes that this milestone could not have been completed alone. "I've been fortunate enough to coach some really good players and to work with some really outstanding coaches. You combine those two with the support that's been given to us from other areas within our district like administration, school board, faculty, staff, community, parents, the booster club," said Coach Barrett, "Those are all groups that are instrumental in our program's success here in Kennedale. I can't thank them enough."
The Wildcats are currently 7-3 this season and 7-0 in the district. Since earning that 250th win against Lake Worth, Coach Barrett and the Wildcats have brought home four more wins. They are heading into the play-offs as district champions and will face off against Alvarado in Bi-District on Thursday, November 9th. This will be Kennedale's 23rd consecutive year in the play-offs.
Kennedale Independent School District is a public 4A school district based in Kennedale, Texas.
For more information about Kennedale ISD, contact Jordan Dunlap at (817) 563-8055 or [email protected].
Website and Social Media