All photos used in this article are by Staci Otts
The game pitted the top team in the district against a #2 team in a season finale. Thinking of a one or a two-point win, maybe even overtime, nope. The #2 team Kennedale crushed the #1 team 64-0 in a win that was so breathtakingly complete that it was hard to comprehend.
The game was over by halftime and here is why – by the numbers …
The Kennedale Wildcats had their hands on the ball 8 times during the first half and scored on 7 of those. They fumble once to the Wildcats of Dunbar and they never punted.
Net yards gained for the K-Cats in the first half was approximately 264 yards, along with 7 touchdowns and 50 points. Two of those TDs were by the defense & one on special teams. Dunbar gave 2 points to Kennedale with a bad punt snap out of the endzone for a Safety.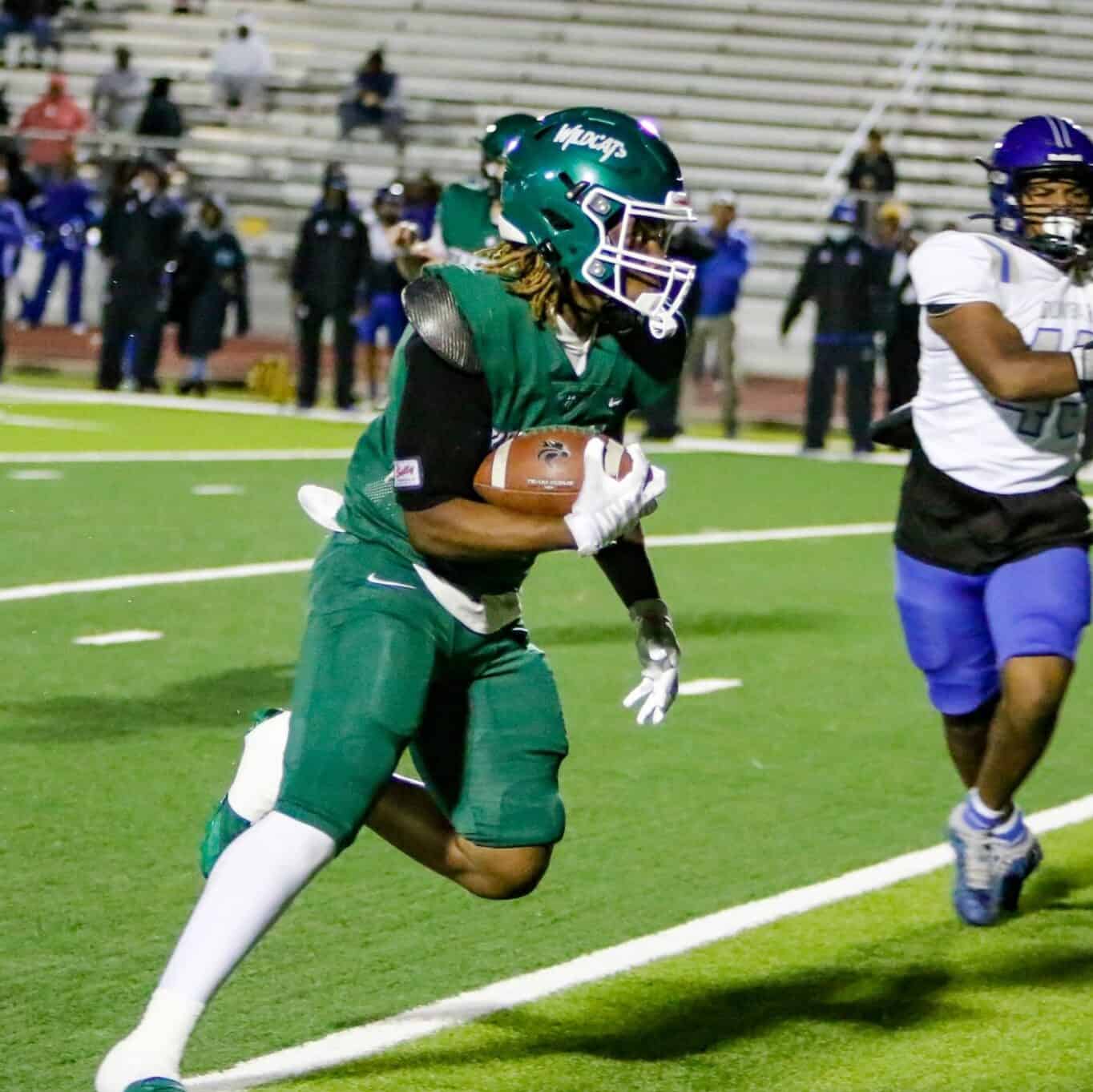 Meanwhile, the Dunbar Cats, with eight possessions in the first half, had a net gain of -29 yards with no points scored on 4 punts, (2 blocked with one returned for TD), 2 lost fumbles (resulting in Kennedale touchdowns) and the turnover for the safety. Their last possession ended as time ran out in the first half. Dunbar crossed the 50-yard line once.
The second half was no better for Dunbar as Kennedale scored two more TDs, one of those on a 55 yard interception. A running clock was employed during the second half and Kennedale ended the game taking the knee at the D41.
Kennedale had 330 all-purpose yards via 242yds rushing, 18yds receiving, 54yds kickoff, 16yds punt returns. On defense the Cats had 9 tackles for loss, 2 interceptions with 1 for TD along with 2 TD fumbles recoveries.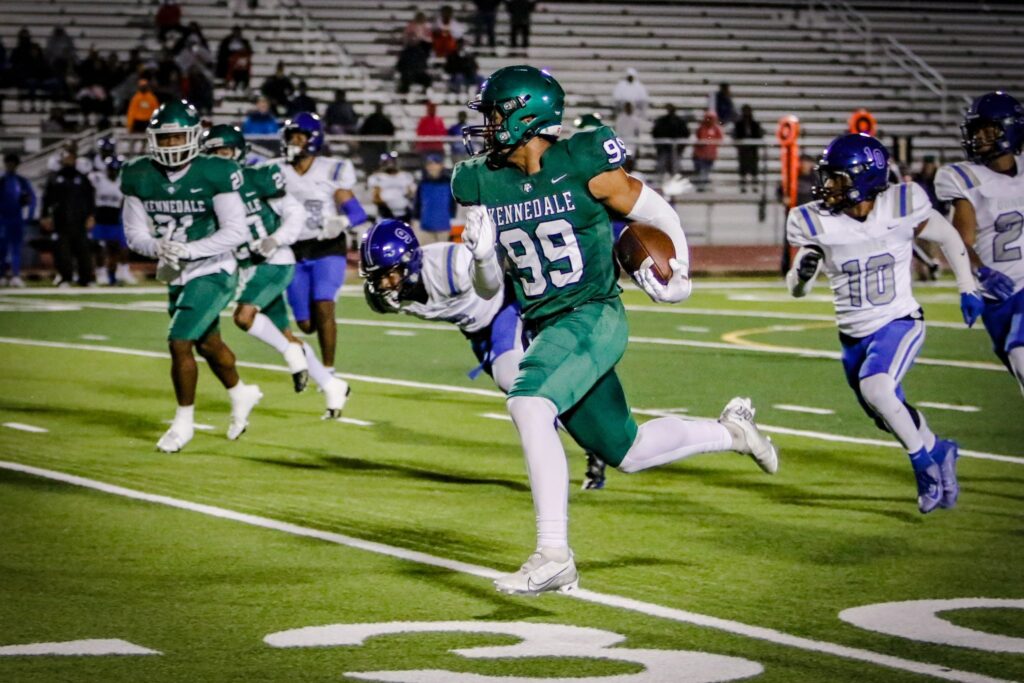 Dunbar managed 77 yards on offense. Four of those yards were receiving. Dunbar running back Murry Moore, among the top rushers in the metroplex, entered the game with 2,161 total yards in nine games, averaging 25 carries and 240 yards per game for a 9.6 avg per carry. Friday night he had 14 carries for 45 yards for a 3.2 avg.
Was Dunbar that bad?
No, as it was said before Dunbar had size, speed, and talent. The D-Cats featured one of the top runners in the area. While Kennedale was picked to win, Dunbar probably felt that they had the edge with their top spot in the district after the big upset of Lake Worth the week before coupled with the knowledge that Lake Worth had bested Kennedale this season. And, there was that in the air that maybe this was Dunbar's year. They had last owned a district title in 2013.
So what happen? Arguably Kennedale has the overall better talent, especially on defense but perhaps the biggest factor in this disaster for Dunbar is the fear of most coaches, the mind of the teenagers with their emotional extremes. Dunbar was pumped, no doubt, and they had reason to be but it seems that they couldn't temper it and adjust. Kennedale smashed their over-confidence within the first three minutes and Dunbar never recovered, talent or not.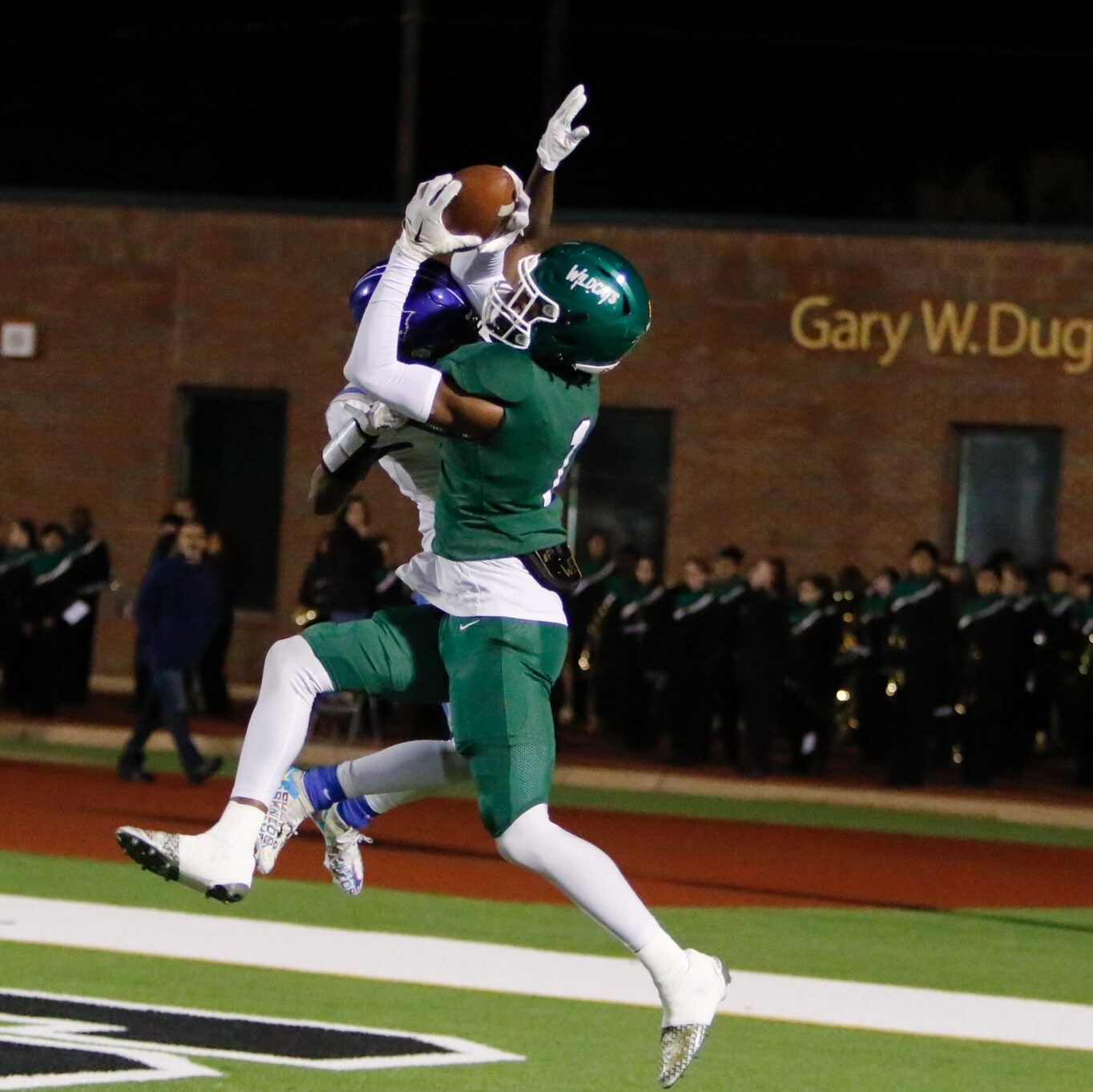 Playoffs next week …
Unfortunately for Dunbar, it does not get any easier. In the first round of the playoff, Dunbar will face Stephenville (8-2). This is the team that went 16-0 and won the state 4A title last year.
Kennedale (7-3) will play Waco La Vega (5-5) with the chance to avenge their season-opening 34-7 loss to the Pirates. That game is set for Friday night at Joshua Owl Stadium with kickoff at 7:30 pm. More to follow on that game. See UIL 4A Dl playoff brackets here.
Top Kennedale performers in the Dunbar game (in no certain order) …
Jason Hammonds (So) 3 for 4 passing for 18 yds, 1 TD, 75% completion
Cameron Lyles (Sr) 148yds, 2 TDs
Damari Harrell-Jones (Sr) 66 yds, 2 TDs
Jaylen Webb (Sr) 16 yds TD reception, 5 tckls, 1 for loss, 16 yards on a punt return
Poasa Utu (Sr) 54 yd TD KO return, 8 tckls, 3 for loss, 1 TD fumble recovery
Jacorey Jackson Jr (Sr) 7 tckls, 1 for loss
Shane Hull (Sr) 7 tckls, 1 for loss
Tyler Greenfield (So) 4 tckls, 1 for loss
Daniel Cooper (Jr) 6 tckls,
Isiah Morris (Jr) 4 tckls 2 for loss
Dedaunte Scott (Jr) 1 interception
Lawrence Hodge (Jr) 1 interception for TD
Zechariah Conner (Sr) 1 fumble recovery for TD
Lance Pate (So) 8/9 PAT kicks
Scores by Kennedale
First Quarter …
Cameron Lyles w 8yd rushing TD. Lance Pate PAT good Dunbar 0, Kennedale.
Safety – bad snap out of the endzone. Dunbar 0, Kennedale 9.
Poasa Utu w 59yd TD Kick Return. Lance Pate PAT good Dunbar 0, Kennedale 16.
Zechariah Conner w 20-yard blocked punt return. Lance Pate PAT good Dunbar 0, Kennedale 23.
Second Quarter …
Damari Harrell-Jones w 5yd rushing TD. Lance Pate PAT good Dunbar 0, Kennedale 30.
Poasa Utu w 5-yard fumble return TD. Lance Pate PAT good Dunbar 0, Kennedale 37.
Jackson Hammonds 16yd TD pass to Jaylen Webb. Lance Pate PAT miss Dunbar 0, Kennedale 43.
Cameron Lyles w 22yd rushing TD. Lance Pate PAT good Dunbar 0, Kennedale 50.
Third Quarter …
Damari Harrell-Jones w 14yd rushing TD. Lance Pate PAT good Dunbar 0, Kennedale 57.
Lawrence Hodge interception w 55-yard TD return. Lance Pate PAT good Dunbar 0, Kennedale 64
Information and stats used in this article were provided in part by Wildcat Game Reporter Jeff Sisemore and MaxPreps.